Parts Covered: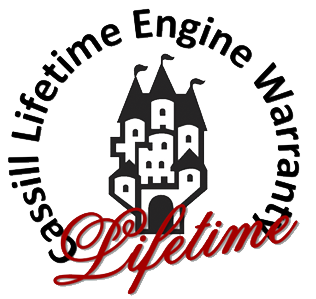 Pistons & Rings

Timing Chains and Gears

Oil Pump

Timing Gear or Sprockets 

Valve Stems & Guides

Camshaft & Camshaft Bearings

Rods & Rod Bearings

Intake and Exhaust Valves

Crankshaft & Bearings

Valve Lifters

Rocker Arms & Pivots

Wrist Pins & Bushings

Engine Block and Cylinder Heads are covered if mechanical failure caused by the above listed parts.
Basically, if engine oil touches the part, it is covered!
*To be replaced with suitable parts at the discretion of the Service Manager.
Vehicles Covered:
Any vehicle sold by Cassill Motors with fewer than 100,000 miles and 10 model years or newer from the date of sale. Most of the vehicles on our lot qualify for this warranty.  Excludes: Diesel, High Performance, RV's, and Motorcycles.
Requirements:
There are only 2 requirements by Cassill Motors to maintain eligibility!
Cassill Motors must perform oil changes on this vehicle every 3,000 - 5,000 miles in our service department.
Cassill Motors must perform any work involving "Service Engine" light warnings on this vehicle
About the Cassill Lifetime Engine Warranty:
This warranty comes with all qualifying vehicles at no additional cost.  Customers remain eligible under the Cassill Lifetime Engine Warranty as long as they own the vehicle.  The warranty is not transferable to the vehicle's next owner.
There are 2 instances that could void this warranty: #1 Driving with a red dash light on (ask about "Jay's Stop Light Theory") or #2 General miss-use which includes: overheating, lack of oil, or abuse.
The intent of this program is to continue to build customer satisfaction and confidence. Our desire at Cassill Motors is to earn your business and maintain a lifetime relationship with our customers.