Watch Part 1 of our 50th Anniversary Video here:
50th Anniversary Story part 3 is coming soon! 
Watch Our featured 50th Anniversary Part 2 below.
Cedar Rapids Rough Riders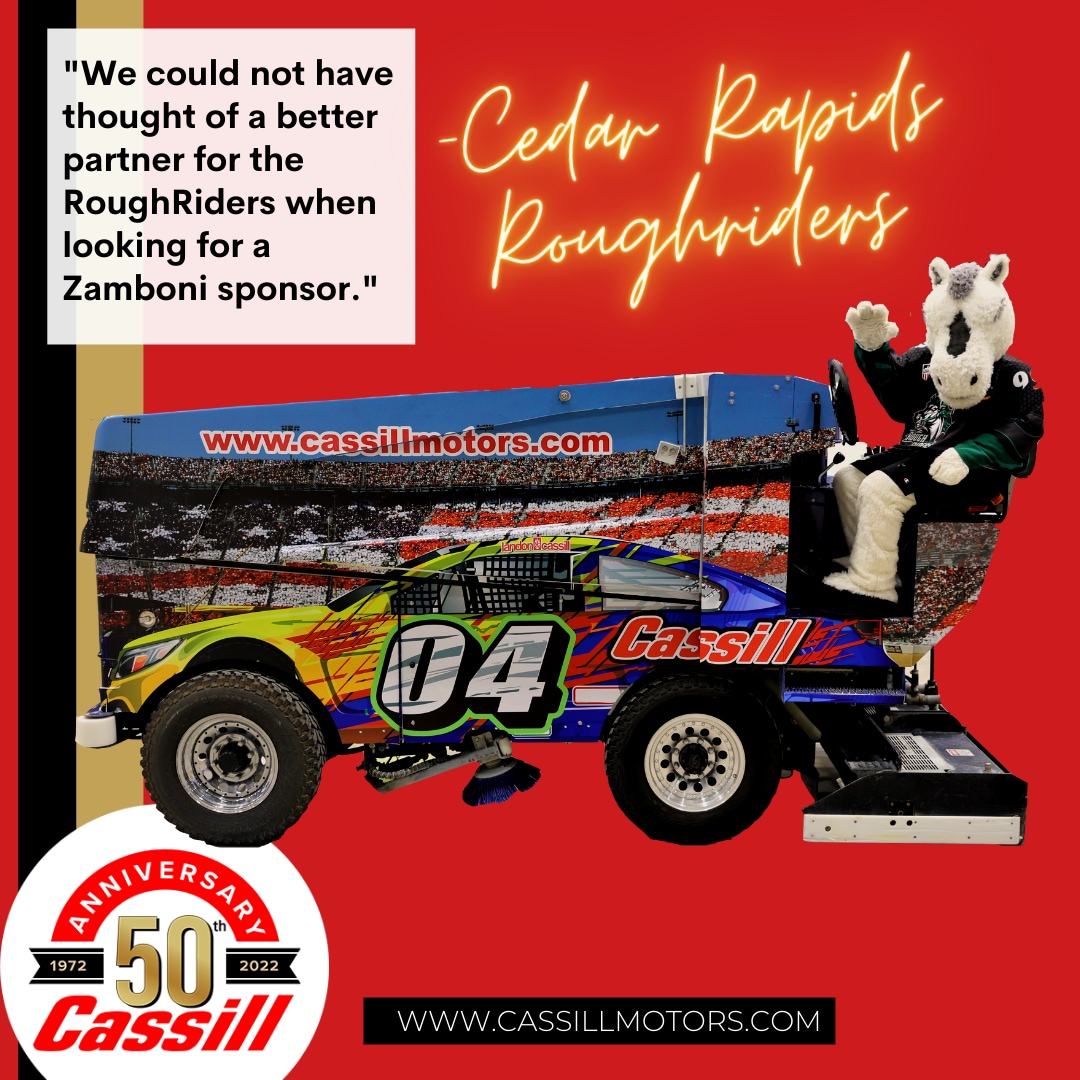 The Cassill Family is made up of genuine people with a reputation for giving back to the community.  Throughout the years of knowing Roger & Jay, they have always been people known for first class service. They like to support the community, just like the RoughRiders.   We could not have thought of a better partner for the RoughRiders when looking for a Zamboni sponsor as they have spent a lot of time at Imon Ice with Echo's skating career.  
The Cassill Motors Zamboni has been a huge asset at our games. Landon is already well known in the CR area, and we've been fortunate enough to not only promote Landon on our Zamboni, but Cassill Motors as well. We love our community and are grateful for the support of Roger and the Cassill Motors team.
-Cedar Rapids RoughRiders
------------------------------
We love being your friends in the car business!
If you have a story to share, contact us! We'd love to hear from you! Submit your story here.
Jeff King - Artist & Owner at Stealth Printers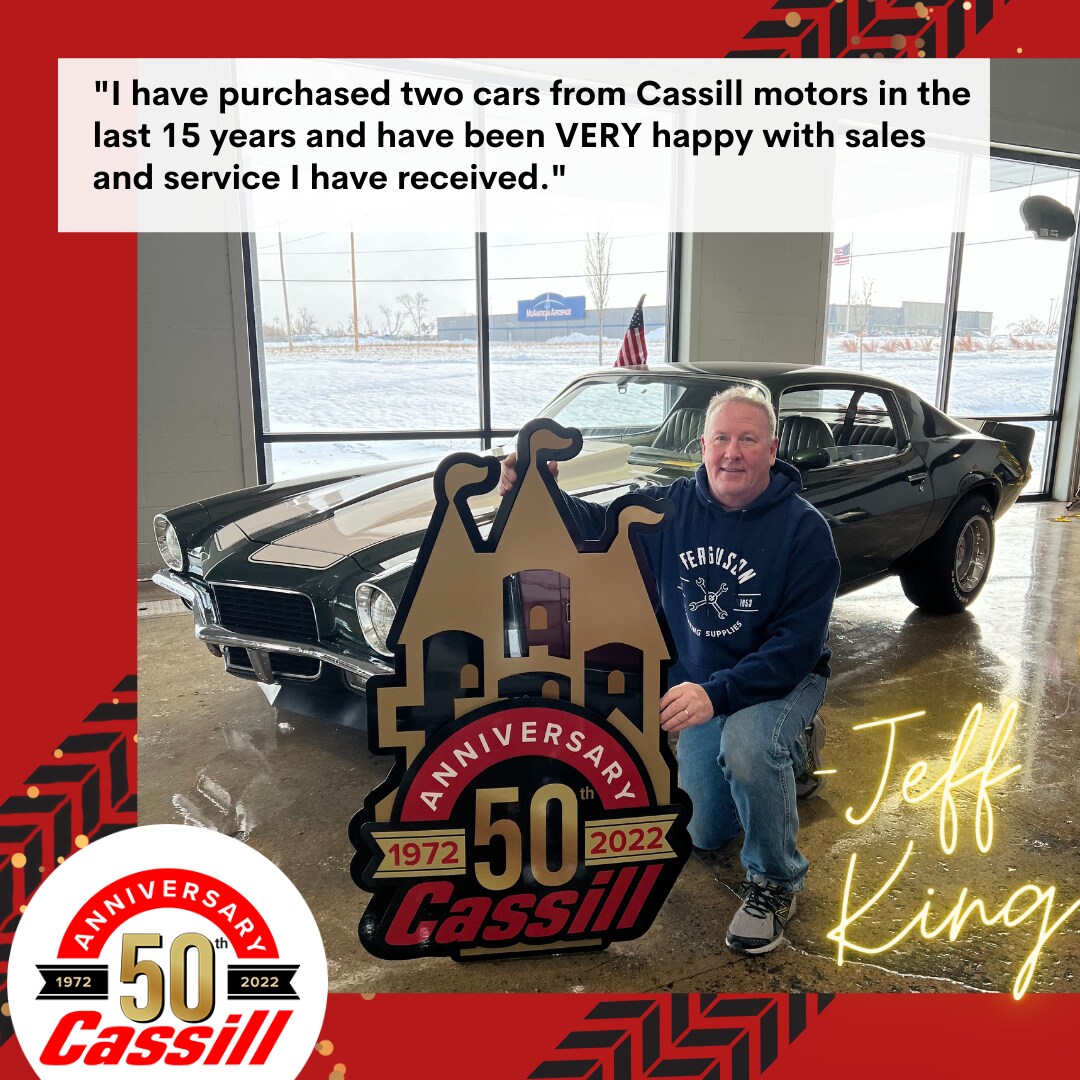 I have purchased two cars from Cassill motors in the last 15 years and have been VERY happy with sales and service I have received.
*Edited by us to add: Jeff is an amazing metalsmith and artist. We have commissioned him numerous times to create big and small pieces of artwork for us. The giant castle on the outside of the building? Yep! He made that! The giant logo above the door on the inside of the building? Yep! He did that too - along with our 50th anniversary signs, and things that he prints for us for our sale at Lindale Mall each year. Thanks, Jeff for being an amazing and artistic part of our 50th year in business this year and for so many years in the past. We love being your friend in the printing and metal business!
-Jeff King
Metalwork Artist at Stealth Printers, Cassill Motors friend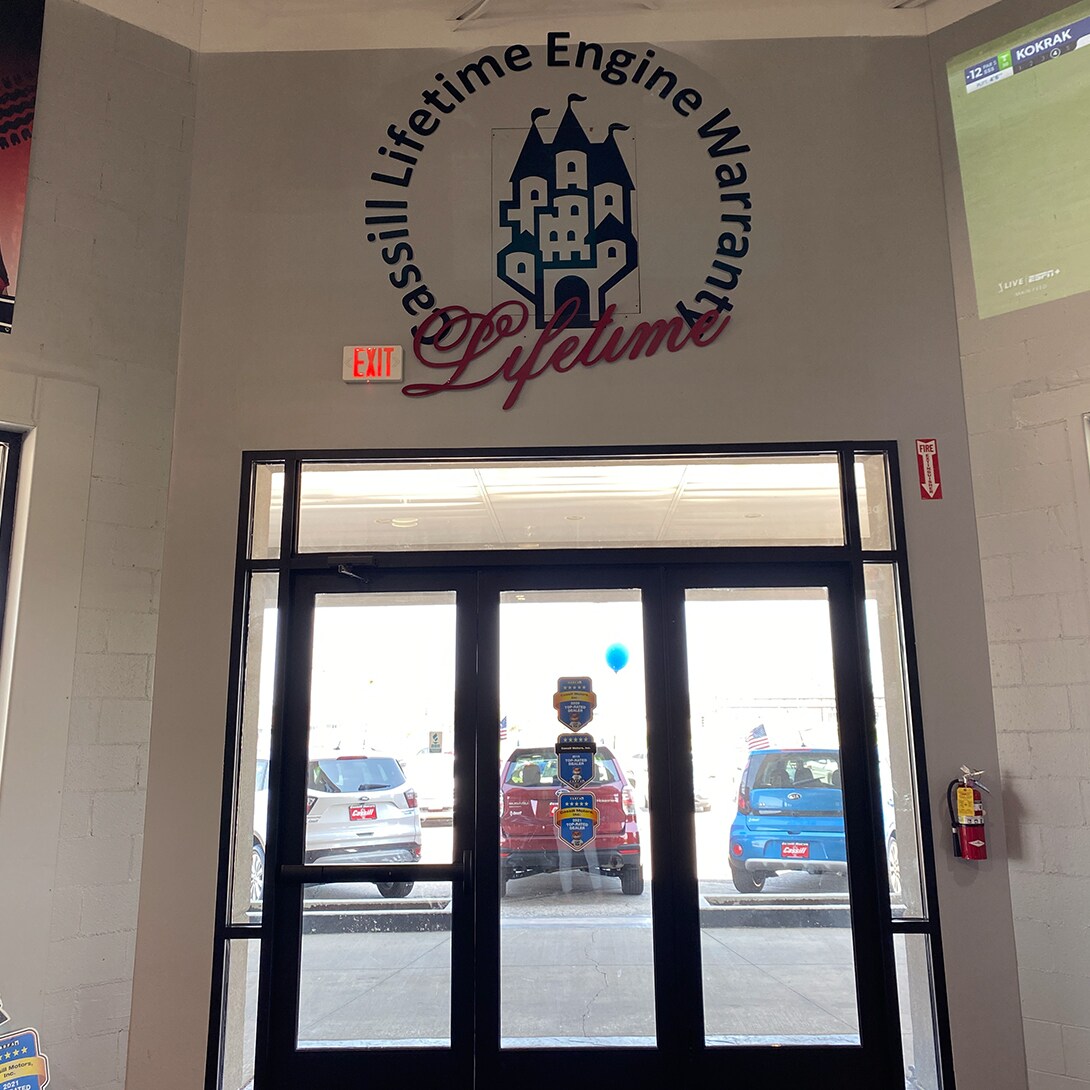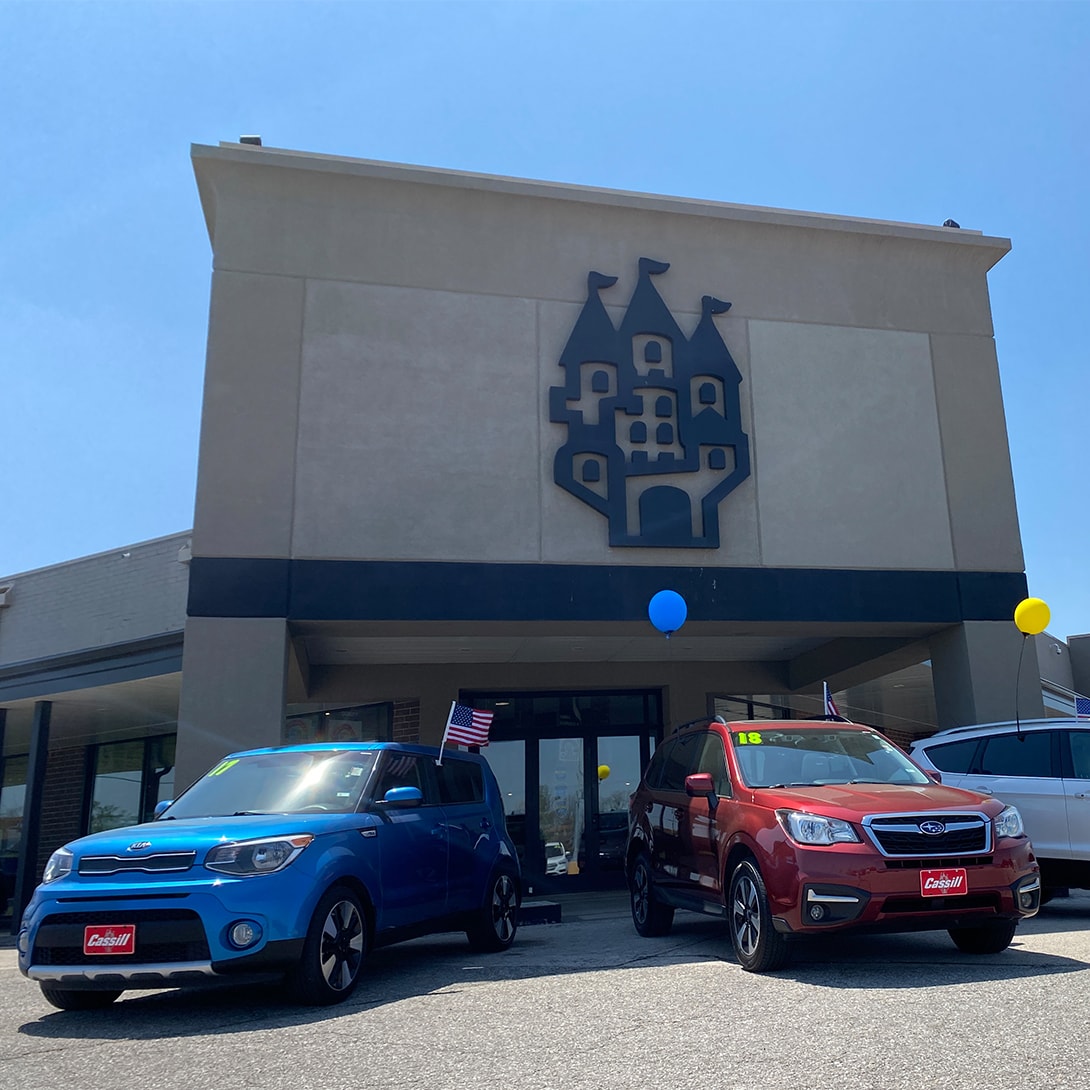 ------------------------------
We love being your friends in the car business!
If you have a story to share, contact us! We'd love to hear from you! Submit your story here.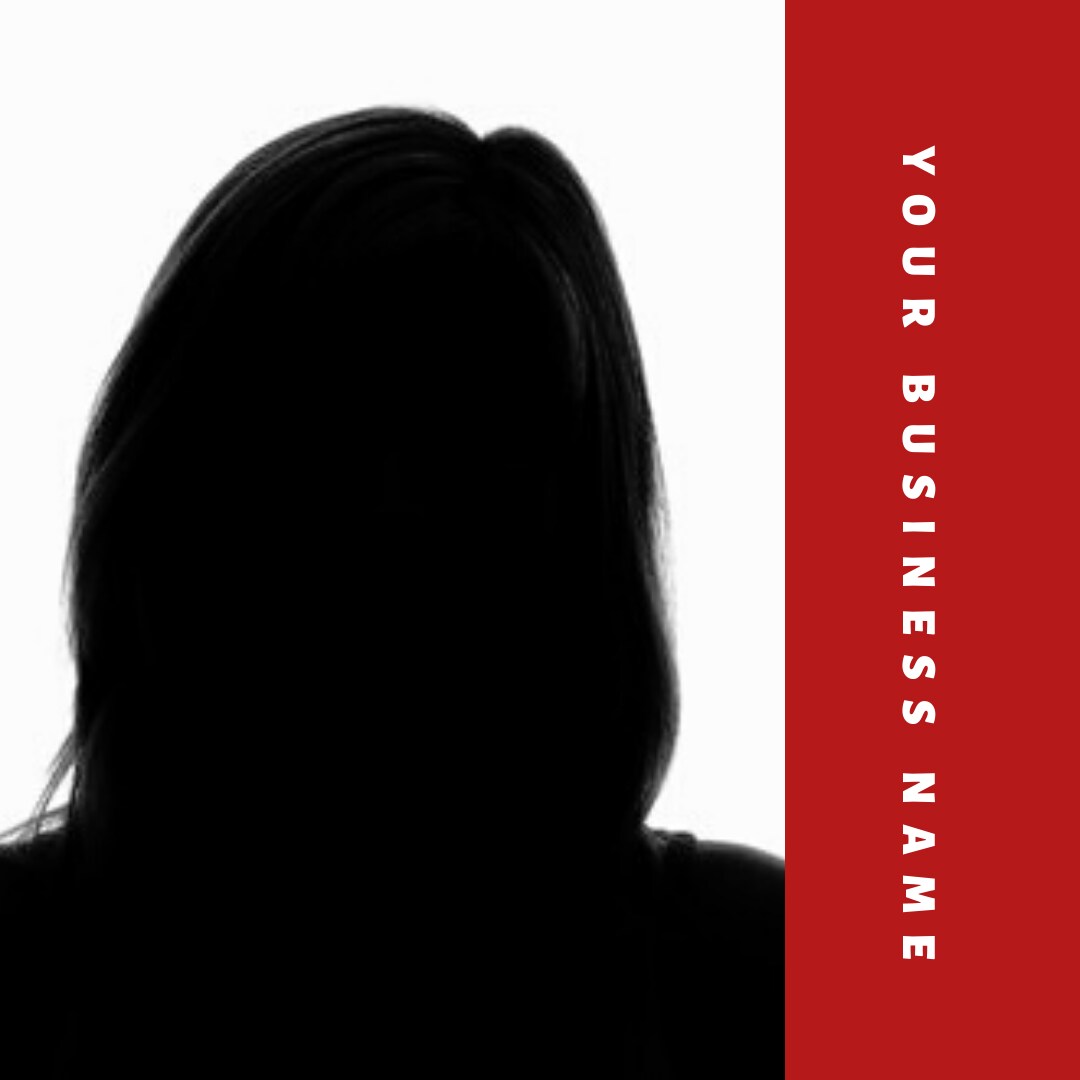 Do you have a story to share? We'd love to highlight your personal or business story with our readers, fans and followers for our 50th anniversary!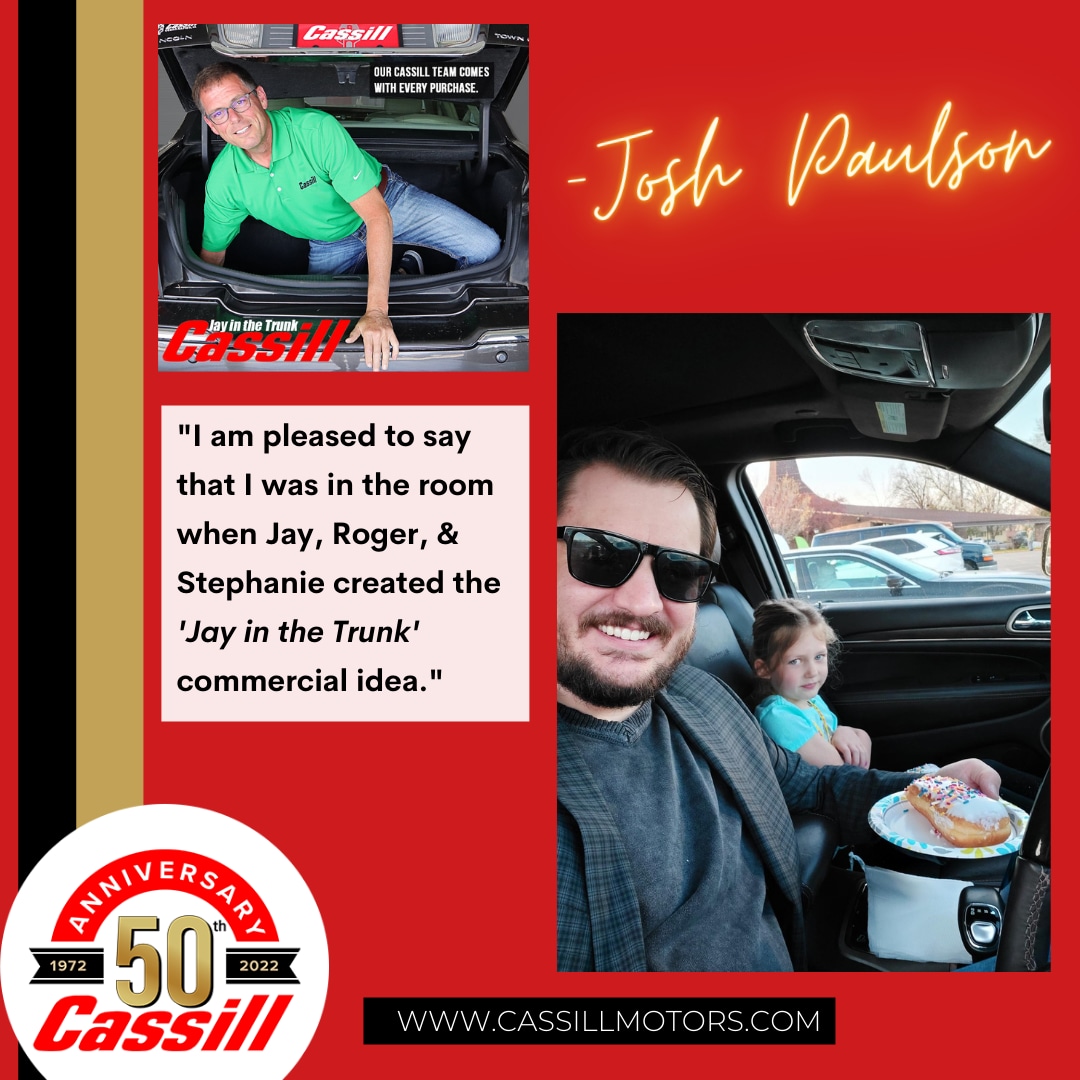 I have known Roger, Stephanie and Jay since 2012.  At the Center Point Road dealership, Jay used to share his wisdom on work and life and provide much needed advice to a young, rookie advertising rep.  I then met Roger and Stephanie when the new dealership opened and worked with the team on how to create memorable television commercials.  I am pleased to say that I was in the room when Jay, Roger and Stephanie created the "Jay in the Trunk" commercial idea in 2014.
I have enjoyed all of our advertising meetings and admire how the Cassill family operates the business.  I've bought too many cars from Roger and Jeremiah.
Roger has helped encourage my love of flying airplanes.  Roger took me up to Waterloo with his dog, Sinatra in a plane that needed to be washed.  The radar showed two pockets of showers on the East and West of our flight path and Roger looked at me and said "We need to wash this thing" and turned directly into the rain.
I had the privilege of meeting Landon several years ago for an advertising meeting and enjoyed hearing his perspective on things.
All of my experiences with Cassill have been wonderful and they have gone out of their way to help me if I needed it.  Culture starts at the top and that is very clear with the Cassill family - I enjoy seeing Greg and working with Jenn as well.
-Josh Paulson
OnMedia Rep & Cassill Friend & Customer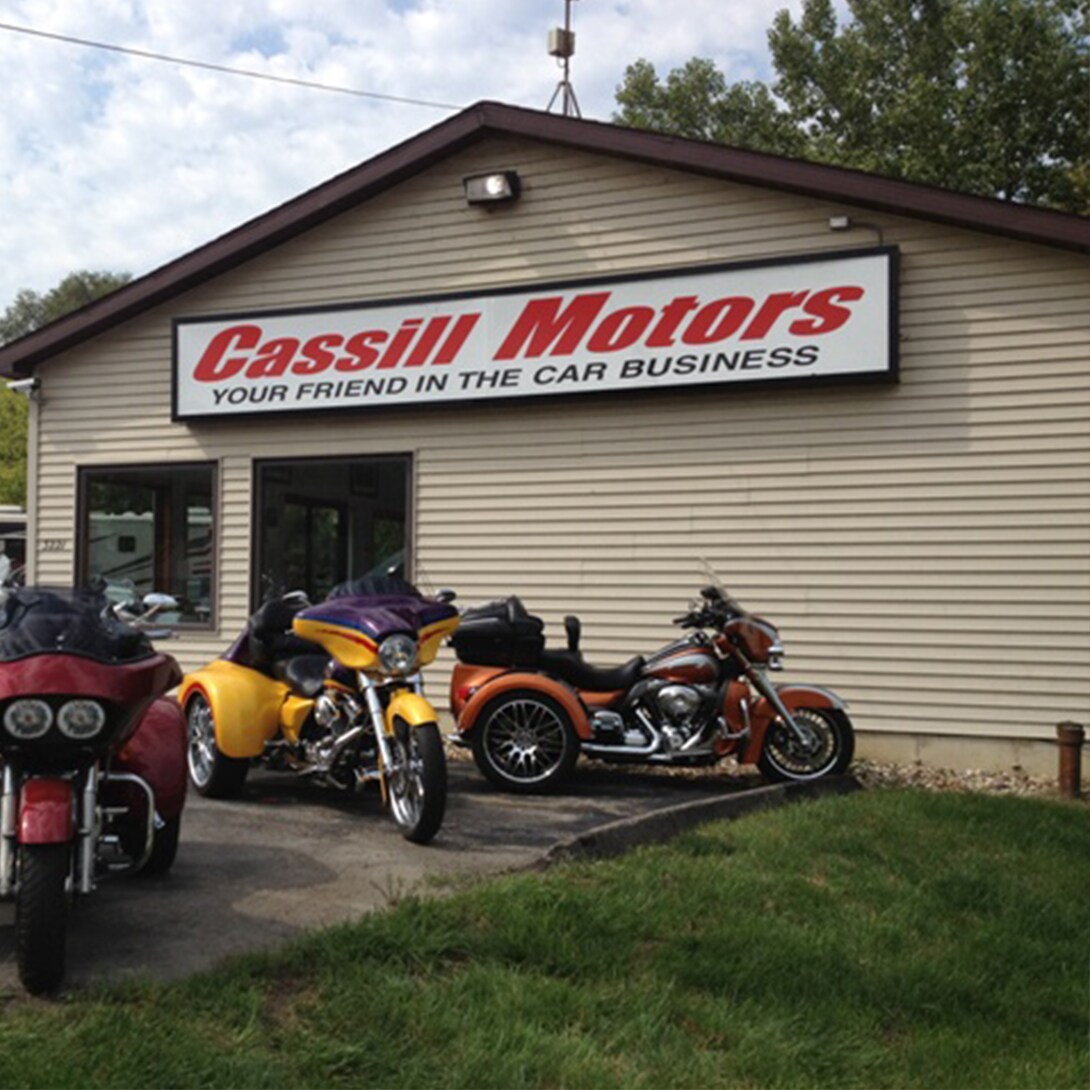 Center Point Road Dealership




Watch our most popular Jay in the Trunk video here.




------------------------------




We love being your friends in the car business!




If you have a story to share, contact us! We'd love to hear from you! Submit your story here.
Sheryl Payton - Graphic Designer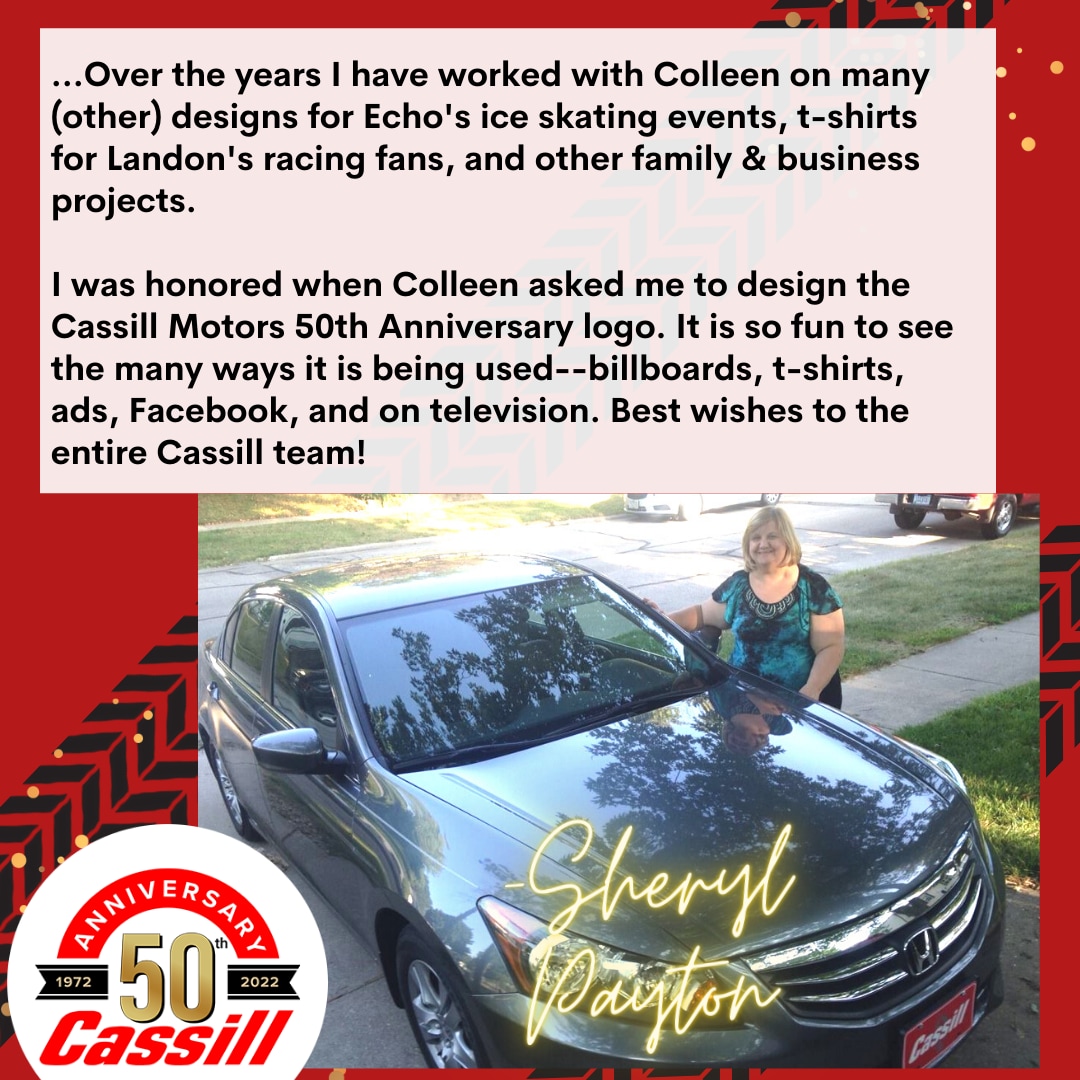 We have purchased many vehicles from Cassill Motors over the years, including the Honda Accord I currently drive and my daughter's Honda Civic. Cassill Service is also great. My 4-year-old granddaughter recently joined me while I waited for an oil change and she loved the kid's area, looking at the cars, and of course the snacks. She even drew a picture for the service team and was thrilled when they hung it up. Now every time we dive by, she says, "I see Cassill."
In addition to my full time job, I am a freelance designer and work with Jefferson's Fine Arts Department. (Fun fact, my father, Robert Geuder, was the drama director at Jefferson for 36 years and the co-founder of West Side Delegation.) I got to know Colleen Cassil in 2012 when her daughter, Echo, was in West Side Delegation and we worked together on the program for the Jefferson Show Choir Invitational. She must have liked my work, because over the years I have worked with Colleen on many other designs for Echo's ice skating events, t-shirts for Landon's racing fans, and other family and business projects.

I was honored when Colleen asked me to design the Cassill Motors 50th Anniversary logo. It is so fun to see the many ways it is being used--billboards, t-shirts, ads, Facebook, and on television. Best wishes to the entire Cassill team!
-Sheryl Payton
Graphic Designer & Former Jefferson Show Choir mom
------------------------------
We love being your friends in the car business!
If you have a story to share, contact us! We'd love to hear from you! Submit your story here.
Craig Ross - Cassill Motors VP of Operations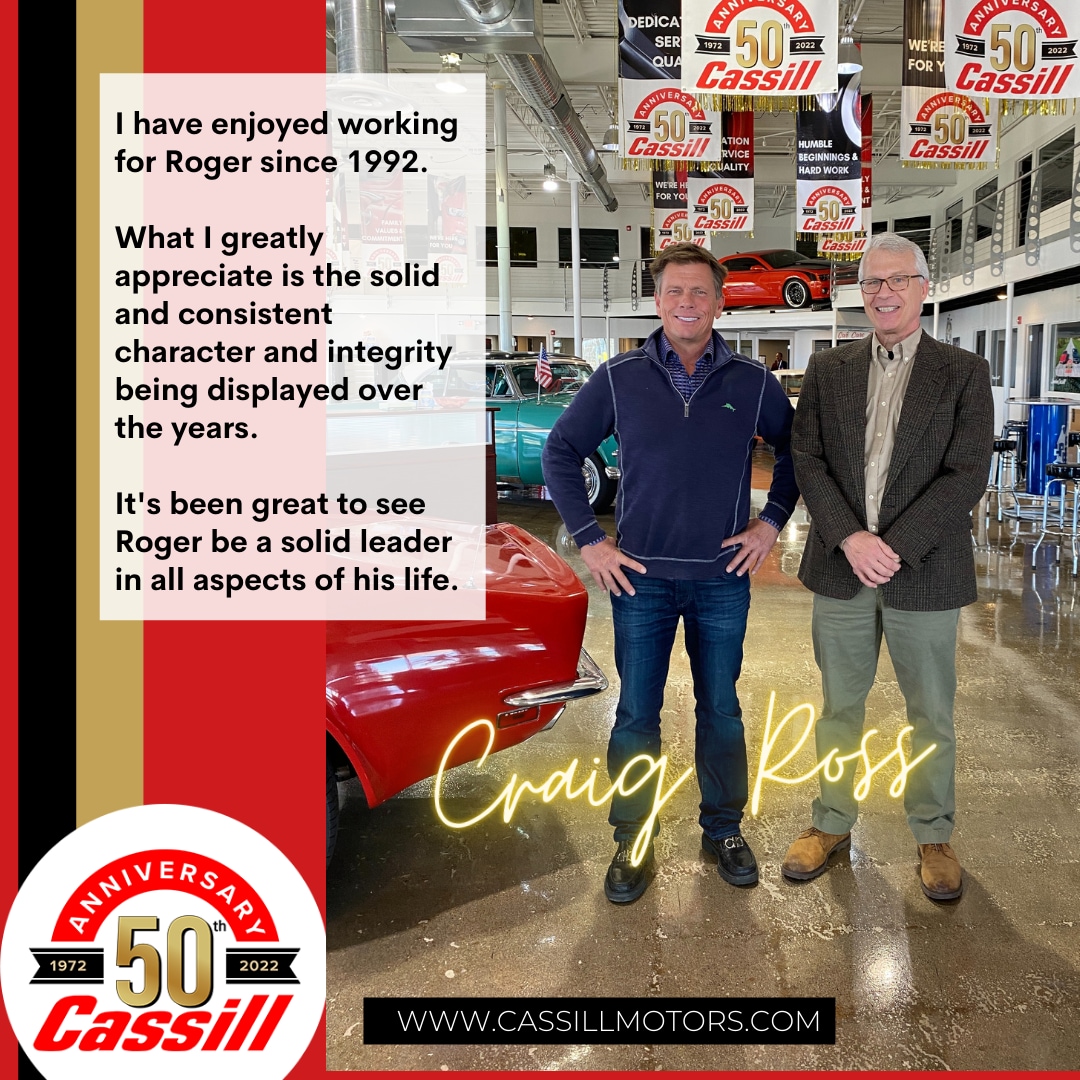 I have enjoyed working for Roger since 1992 in Vinton, Iowa, at Cassill Ford Mercury when he was the youngest Ford dealership owner in the country and Colleen was the Office Manager.
When he sold that dealership, he brought me with him back to Cassill Motors where I was able to also work with Dwayne, Janet, Jay and Stephanie at the original dealership located at the SE corner of 16th Ave SW & West Post Rd SW in Cedar Rapids. What a great experience!
Although I stepped away for 12 years (1997 to 2008), it's been fun to reflect back on life experiences of the last 30 years with Roger and the entire Cassill family! From riding as Roger's passenger on a motorcycle on an old airport runway to, hearing of his family hiking, fishing, skiing, being a spotter for Landon's auto and truck racing, spotting for other racers as needed, competing internationally in Ironman Triathlon competitions, watching his children grow up, seeing Jay work late into the night and early morning to replace the clutch on my 1991 Taurus SHO, hearing Jay every Saturday morning on the radio for the Car Geek Hour, and seeing Jay being one of Santa's helpers every Christmas. Then there was quite an unusually special memory of "Going Over The Top" rappelling beside Jay off the top of the Iowa Building in downtown Cedar Rapids to raise funds for Youth For Christ! I enjoyed working with Stephanie when she was back in high school and helping her mom in the accounting department before she left to go to college in Oklahoma…it was during her time there that the Murrah Federal Building was destroyed from a terrorist bombing. It was fun to see Steph drive her new bright yellow Mustang convertible as a teenager that her family special ordered for her. It is a pleasure to continue working with Stephanie in the wide array of areas at the dealership that she is involved in as a manager!
I remember back in the early 1990's when Roger received a call from someone concerning, I think it was a (1957?) Ford Thunderbird, that had been stored in a barn near Vinton…We rode out together in the winter with about six inches of snow on the ground to inspect it…He bought it on the spot and then restored it himself to showroom condition! It was immaculate!
It's been great to see Colleen become one of the outstanding business women leading the way in the Cedar Rapids area as well! She has been the owner of Cassill Auto Value Rentals, L.L.C. for many years while raising a wonderful family!
It's been special for me to watch Zach pursue hiking and fishing and now working with his wife Mari in Saudi Arabia! I remember him helping me with excel spreadsheets when he was back on break from Winona College in Minnesota…(I am pretty sure he has some kind of genius status brain!). I enjoyed asking Roger to give me updates on Zach's professional fishing competitions and the time Zach spent in Alaska as a professional fishing guide!
I remember Roger telling me how Landon was trying to pass Zach on a corner while "racing" quads in a field at age four and Landon's response to Zach mentioning that Landon had run into him on the corner was "Rubbing is racing, Dad!" Now, seeing pics of Landon's family dress up for Halloween and seeing them stopping in with Landon at the dealership is very special to me. We are all looking forward to Landon having a great racing season again this year and becoming more involved at Cassill Motors in the future!
Seeing Echo grow up to be a professional ice skater and now a commercial pilot and flight instructor is amazing as well! It's nice to know she had the best flight instructor herself (initially Roger) to help ensure she has the necessary understanding and experiences for dealing with challenging situations!
Now seeing Jay's sons grow up to be fine young men as well is great! Plus I get to work with Jeremy's wife, Crystal Blu Cassill, as she is the manager of our title and vehicle dispatch department working full time while being the mother of two little ones, Elle and Carson!
And Stephanie and Chad's daughters: Bridget, now soon to be a full time educator/scuba diver and Carla, now at ISU studying Architecture have grown up to be wonderful young women…both who have spent many years helping out in the title department, receptionist desk, and our website updating our inventory!
What I greatly appreciate is the solid and consistent Character and Integrity being displayed over the years. I remember these old quotes from over the years, "Improvise, adapt and overcome", "So let it be written, so let it be done", and "People don't care how much you know until they find out how much you care".
It's been great to see Roger be a solid leader in all aspects of his life. 
Happy 50th Anniversary to Cassill Motors!
P.S.  Roger Cassill is the best automobile painter and airplane pilot that I have ever known! 
Isaiah 40:28-31, Phil 4, John 8:32, Jude 1:24-25
-Craig Ross
VP of Operations at Cassill Motors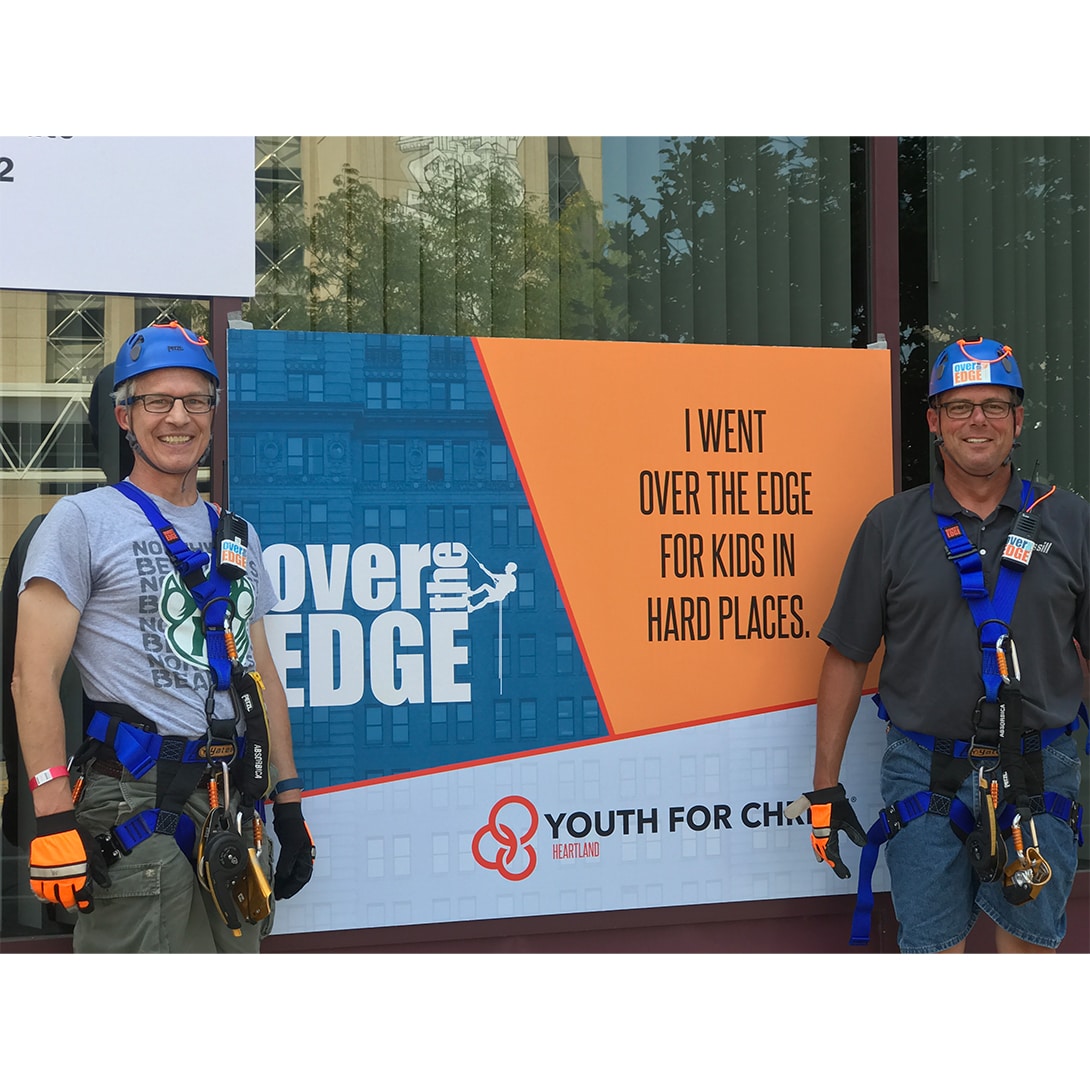 --------------------------------------------
We love being your friends in the car business!
If you have a story to share, contact us! We'd love to hear from you! Submit your story here.
Slayton Thompson - friend & community advocate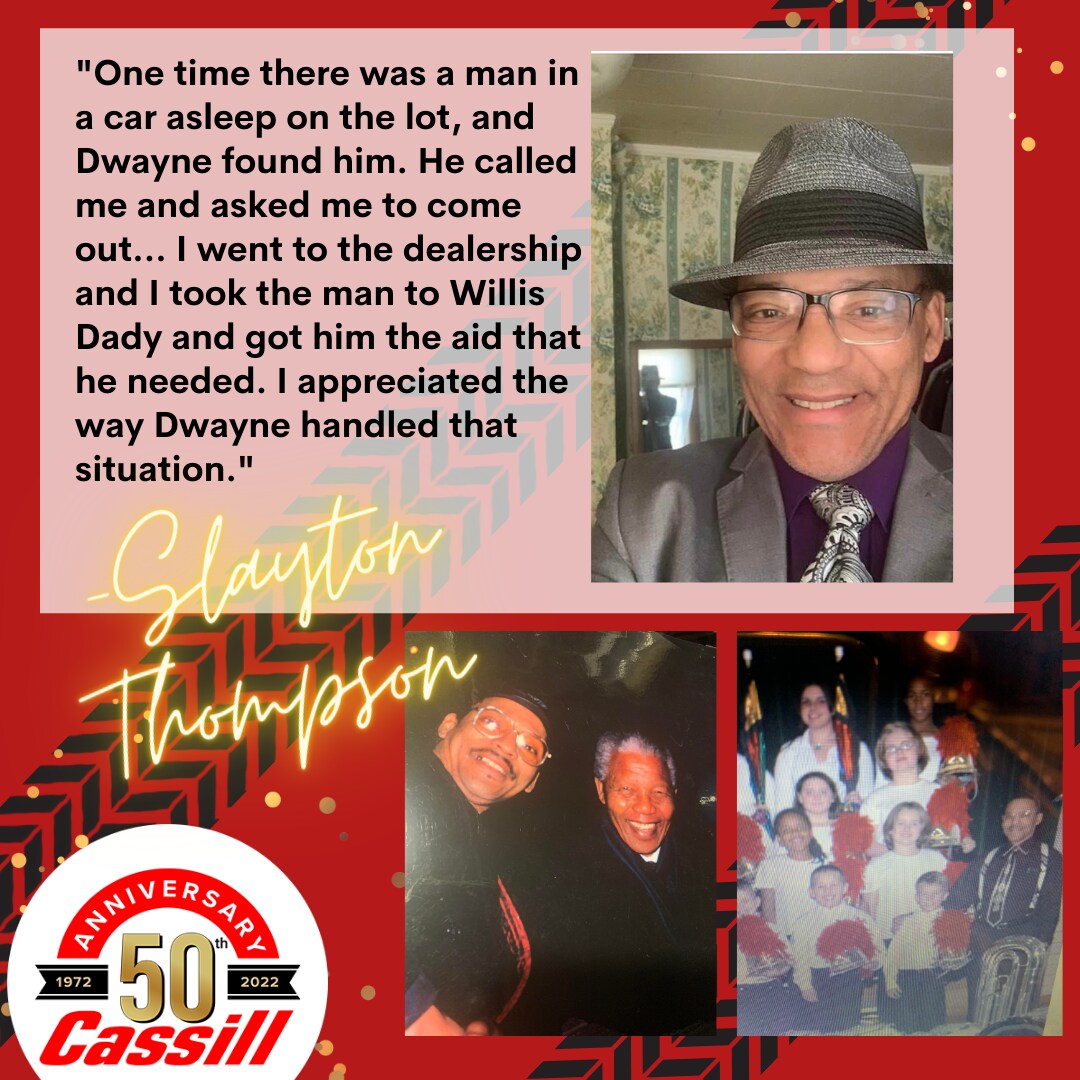 I remember talking to Dwayne, looking at cars outside of the house.  Seeing the two boys running around with the water hose.  We talked about family and that conversation lasted for more than 15 years.  We were more than friends - we were trusted friends.  Trusted friends are hard to come by. .  I used to take Stephanie to Wilson for school when the dealership was busy.  I've bought at least 4 cars from Cassill Motors over the years and had them serviced as well. Stories?  Well, one time there was a man in a car asleep on the lot, and Dwayne found him.  He called me and asked me to come out.  I came out and I was able to get the man to Willis Daddy and get him the help that he needed.  I appreciated the way Dwayne handled that situation.  I was sad to hear that Dwayne had passed in 2019, but I remain a trusted friend of the Cassill family.  
-Slayton Thompson
Musician, friend, community advocate
-----------------------------------
We love being your friends in the car business!
If you have a story to share, contact us! We'd love to hear from you! Submit your story here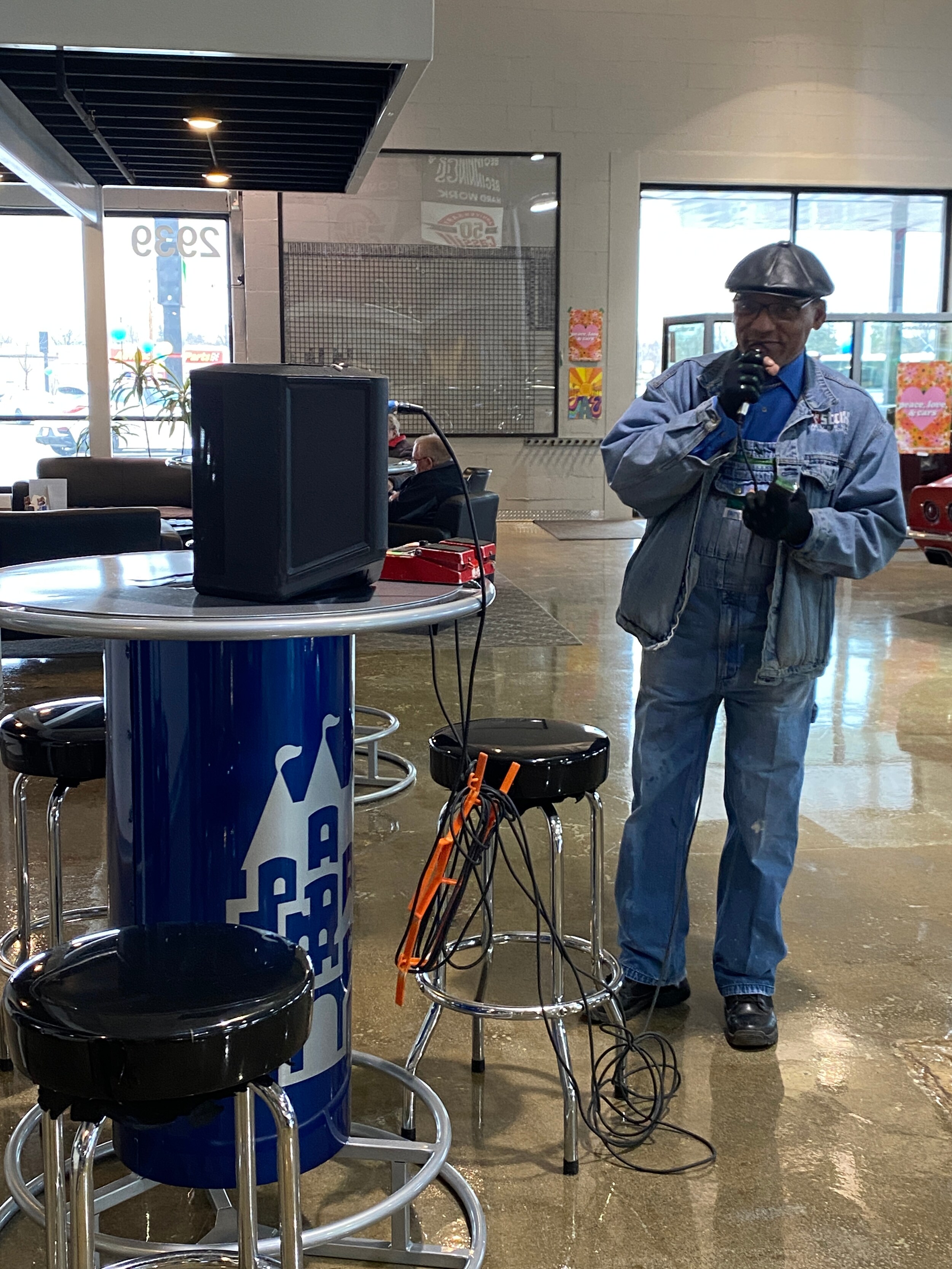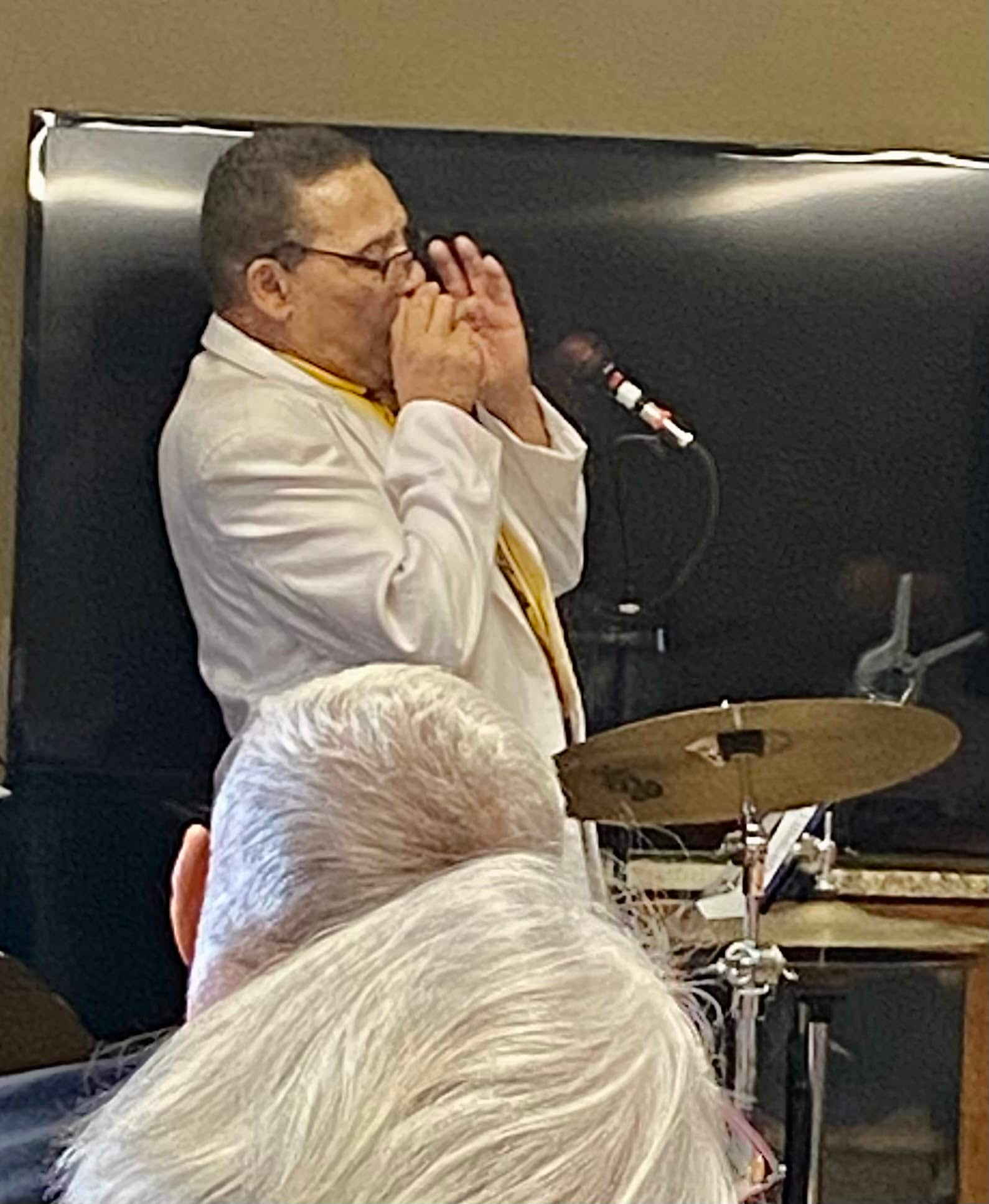 Kristine DeKlotz - high school friend,  vendor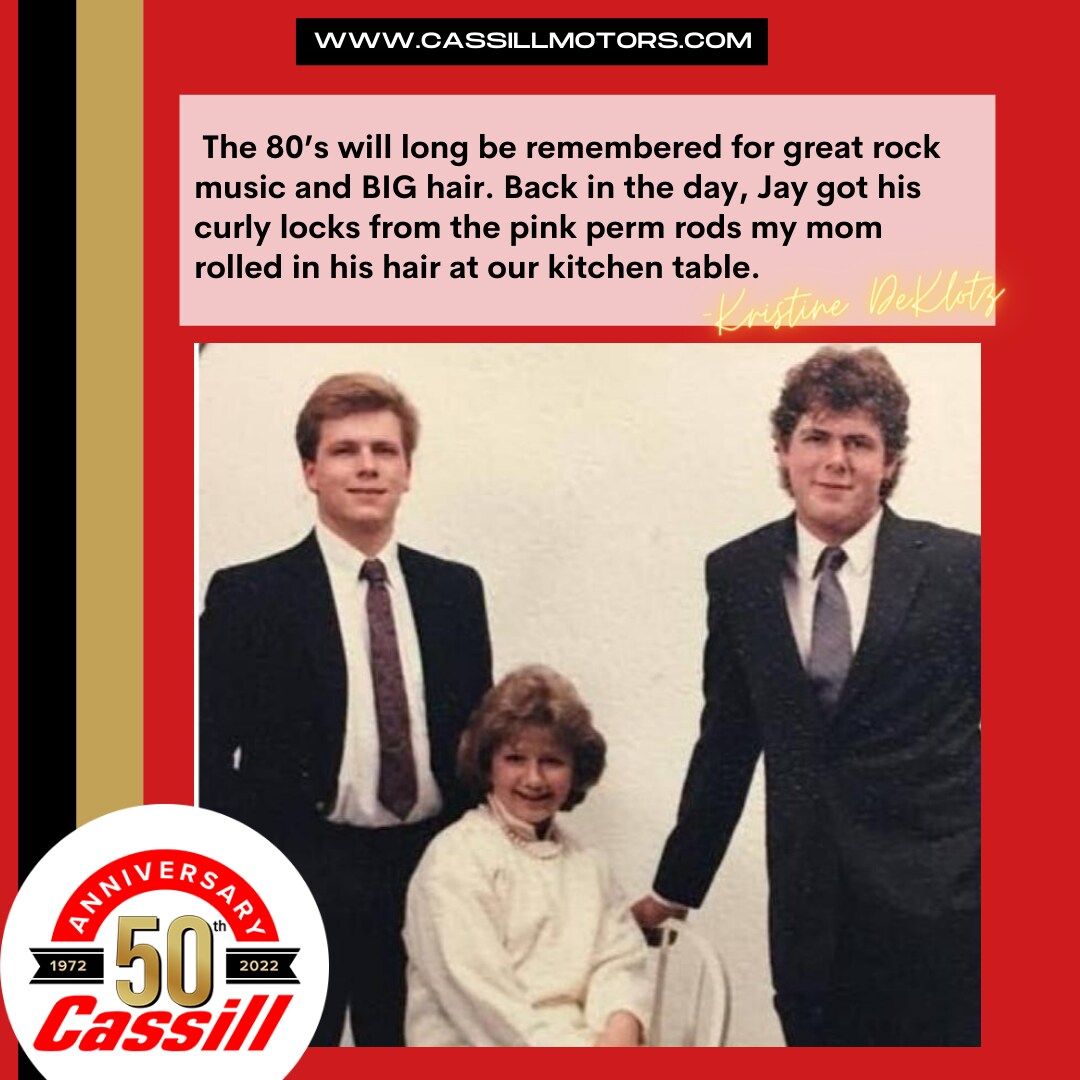 Congratulations to the Cassill family as you celebrate 50 years in business!  We've had so many great memories together over the years.  The 80's will long be remembered for great rock music and BIG hair.  Back in the day, Jay got his curly locks from the pink perm rods my mom rolled in his hair at our kitchen table.
Even with 80's curly hair, boys will be boys.  One Sunday afternoon, Jay and my brother went mud running at six hundred acres and got stuck..really stuck!  When the boys didn't show up for dinner, we called Cassill's and Roger and my parents searched in the dark for hours but didn't find them.  Around 8:30 pm Jay's Corvette roared into our driveway, and the boys were laughing about their adventure.  I was so relieved to have them home safe but couldn't resist a good "big sister" lecture before storming off to my room.
After school, Jay and my brother would often stop by my grandparents' house for cookies and kolaches.  Jay was usually driving the wrecker he built and would exit their driveway with all the lights flashing in appreciation of Grandma's tasty treats.  When my grandma passed away, he gave her one final light show as we drove out of the cemetery, and I know she was smiling!
Today, one my greatest pleasures, is seeing Roger, Jay and Stephanie work together to make every experience with Cassill Motors one that would make their parents proud.
-Kristine DeKlotz, high school friend, owner of Marketing Innovations
---------------------------
We love being your friends in the car business!
If you have a story to share, contact us! We'd love to hear from you!  Submit your story here.
Norman Schanz - friend, customer, furniture builder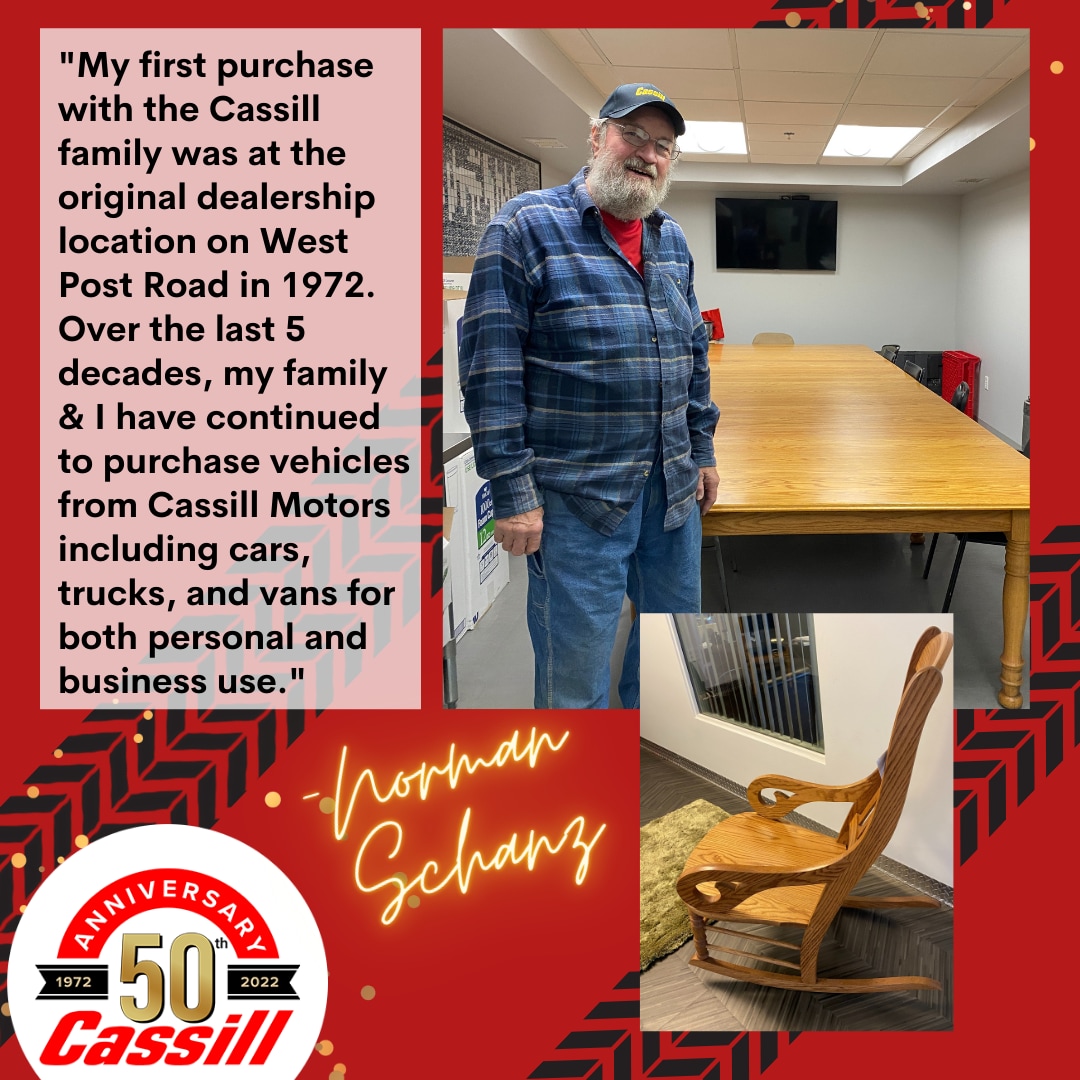 "My first purchase with the Cassill family was at the original dealership location on West Post Road.  Over the last 5 decades,my family & I have continued to purchase vehicles from Cassill Motors including cars and trucks and vans for both personal and business use.  My wife also used to regularly rent vans from Cassill Motors over the course of many years to travel to a basket & broom convention out of state." 
In addition to being a loyal customer for 50 years, he has also been a local business owner in Eastern Iowa since 1966.  His furniture shop, Schanz Furniture is located in South Amana. Norman built some of the furniture that we use at Cassill Motors on a daily basis, including this 18' long table in our employee break room. It was handmade in his shop from Iowa Oak. He also handmade the rocking chair that sits in our dealership in the kids area for moms and dads and caregivers to have a comfortable place to sit while children play. 
The Cassill family also personally owns several pieces made by Norman & Schanz Furniture including a table and chairs at Stephanie's house that are still strong and sturdy and 35 years old! Thanks, Norman for being not only a valued customer and friend but a valuable contributor to the history of Cassill Motors. 
-Norman Schanz
1972 Customer, Friend, Furniture Builder
---------------------------
We love being your friends in the car business!
If you have a story to share, contact us! We'd love to hear from you! Submit your story here
Jim Hessenius - Longtime customer & friend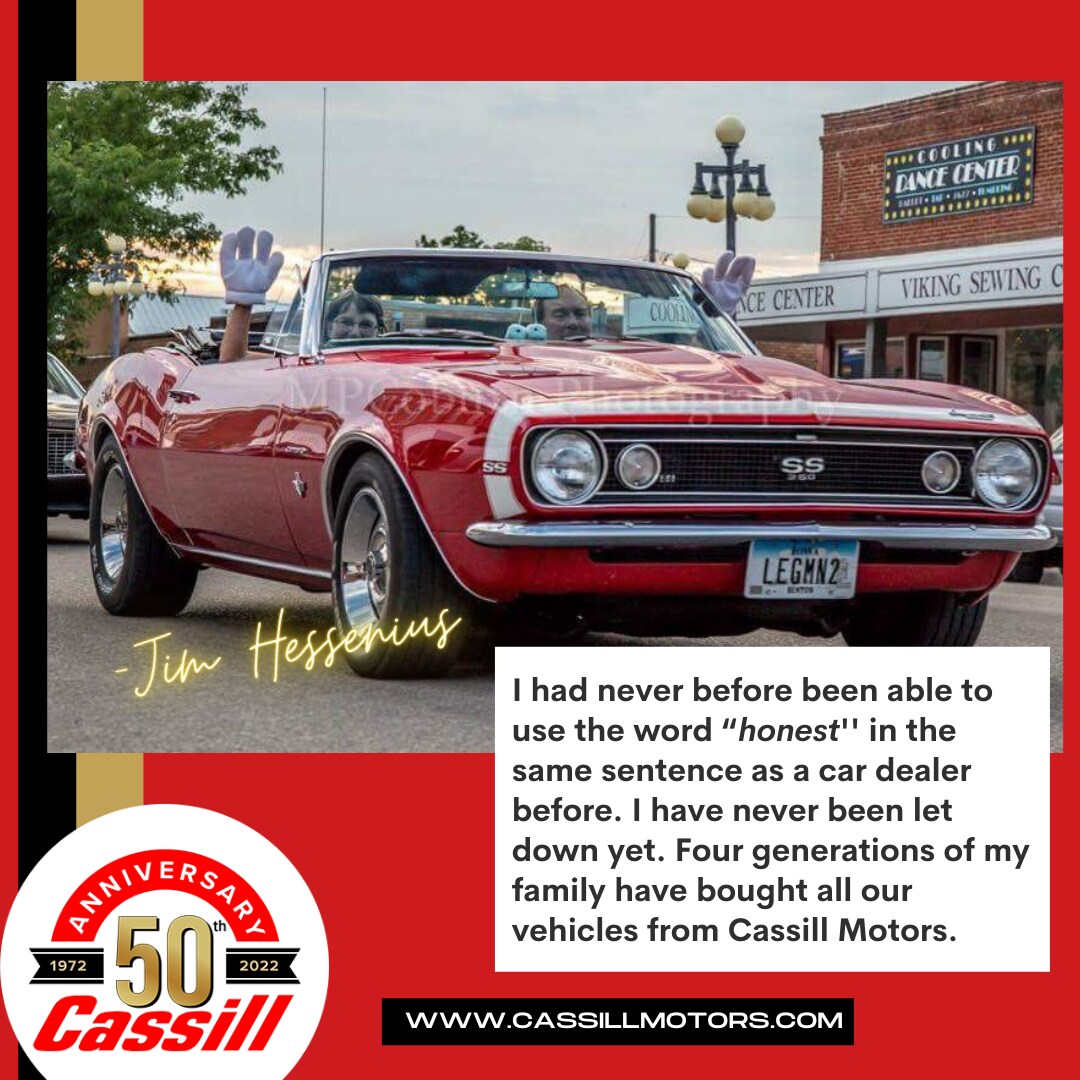 We became avid Cassill fans back in 1987 when Roger sold a Crown Victoria Wagon to us right before we moved to Minnesota, where I was headed to college. We found some problems with the car that I thought would be an expense for us to fix. I mentioned it to Roger thinking we would be out of luck and he told me to bring it in.  Cassill fixed it at no cost to us. I had never before been able to use the word "honest'' in the same sentence as a car dealer before. I have never been let down yet. Four generations of my family have bought all our vehicles from Cassill Motors. At my count, my wife and I have purchased 23 vehicles and with family and friends who have gone to Cassill Motors, we are probably well over 100 vehicles. The Cassill family are friends as well as our Car dealers.
-Jim Hessenius
Longtime Customer & Friend
---------------------------
We love being your friends in the car business!
If you have a story to share, contact us! We'd love to hear from you! Submit your story here.
John Vavra - banker from 1972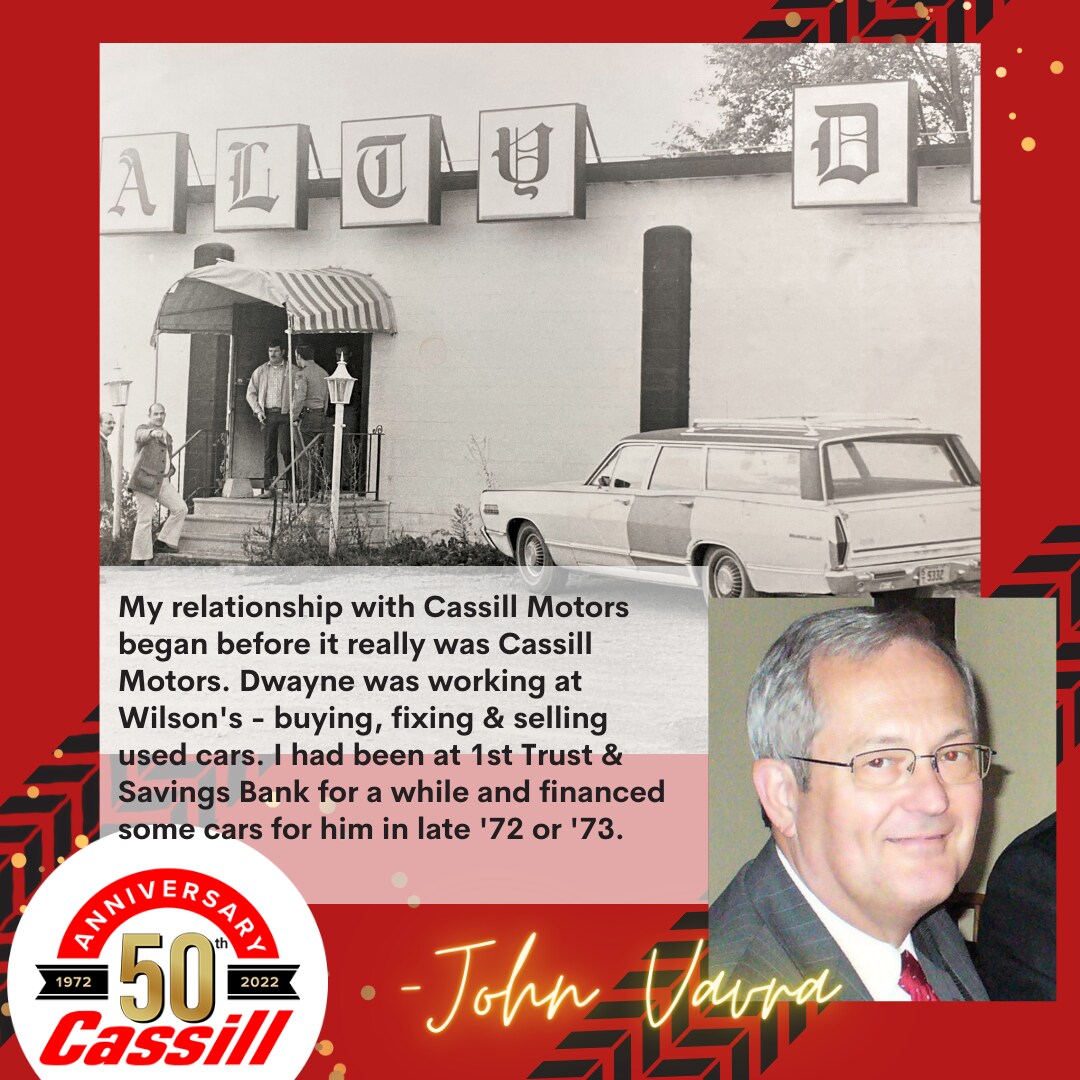 My relationship with Cassill Motors began before it really was Cassill Motors.
Dwayne was working at Wilson's and buying, fixing and selling used cars. I had been at 1st Trust & Savings Bank for a while and financed some cars for him in late '72 or '73.  We progressed on to "Cassill Motors" after that. Dwayne and Janet sold their SE side home and we financed a house behind the Salty Dog on the corner of West Post Rd and 16th Ave. I think Then the XXX Theatre building was bought and again we financed it for them. (Edited to add: the XXX establishment was bought so it could be destroyed.) They continued to do well and we financed their expansions. After I left 1st Trust and went to United Security, I still did business with Jay personally and financed some retail contracts for Roger and Colleen. I still have a Christmas card from them. I lost contact with the family after my heart surgery, and moved to Davenport. I only  just saw them all at the dealership after Dwayne's death. I was glad to have worked with Dwayne and Janet for so many years and be a part of helping to get them started way back when.
-John Vavra
Banker from 1972
---------------------------
Read more of the Cassill Motors story here.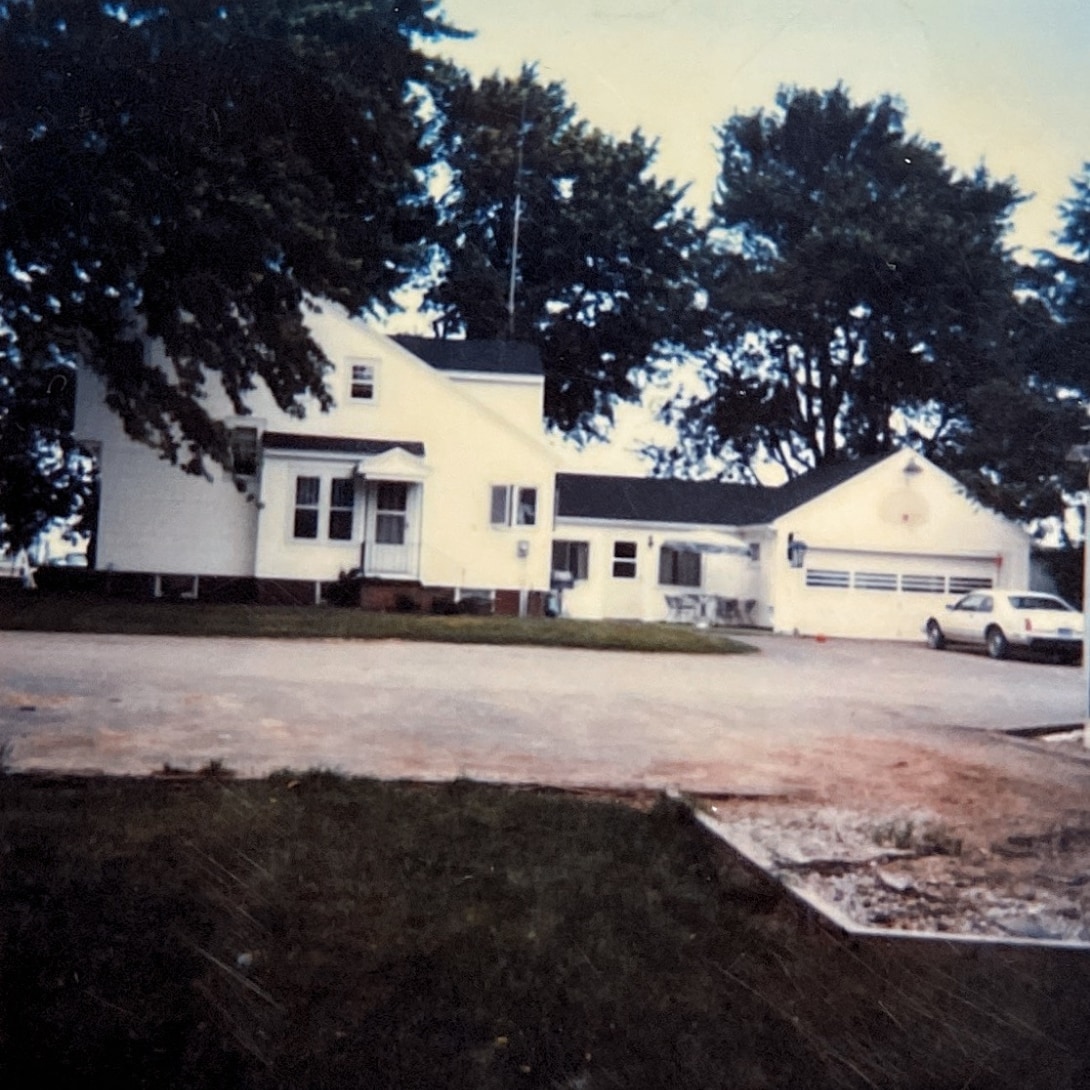 Dwayne and Janet bought this house next to the triple X establishment and lived in it with their 3 young children.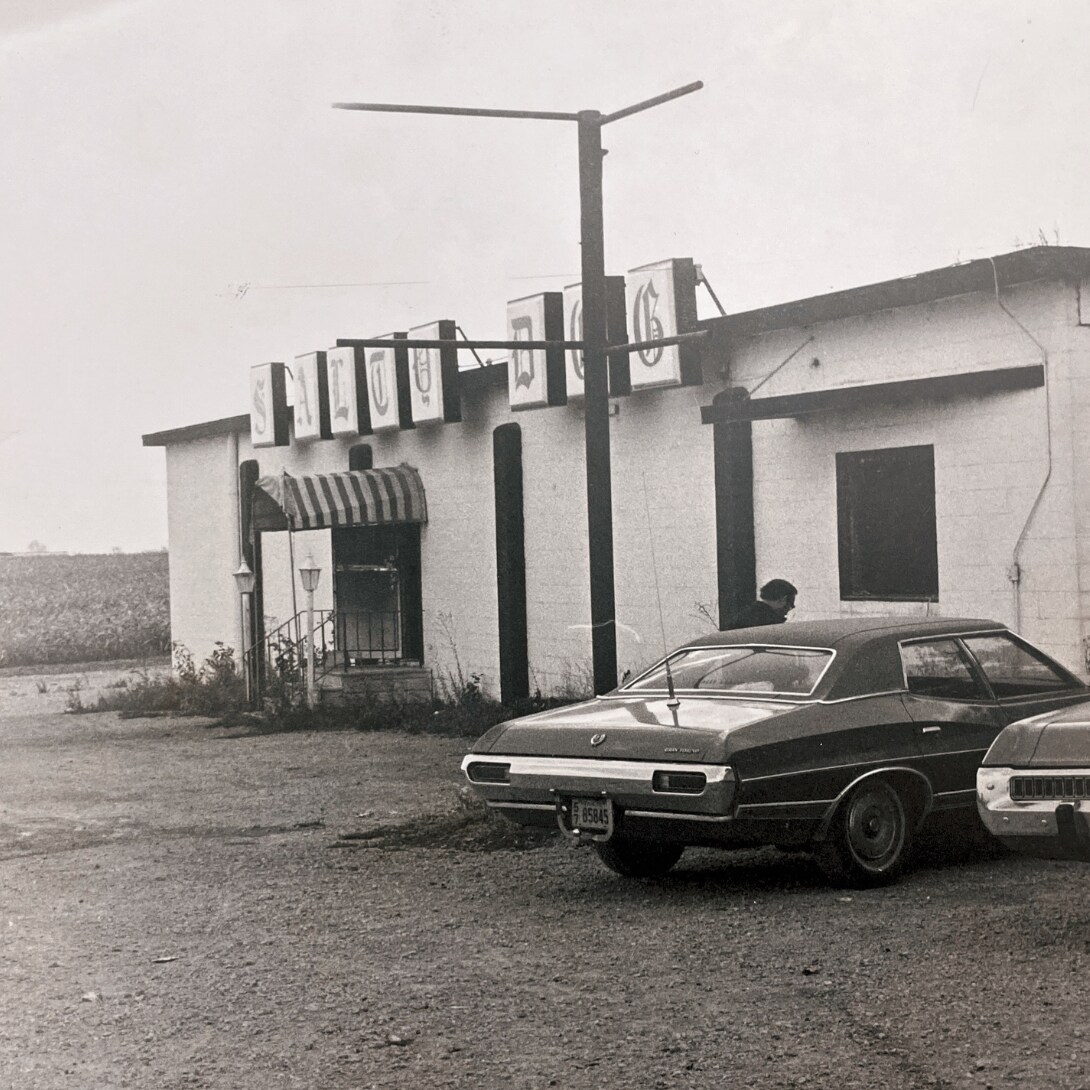 Dwayne and Janet bought the triple X establishment to help clean up the SW side of town and so they could repurpose the space for their growing car dealership business.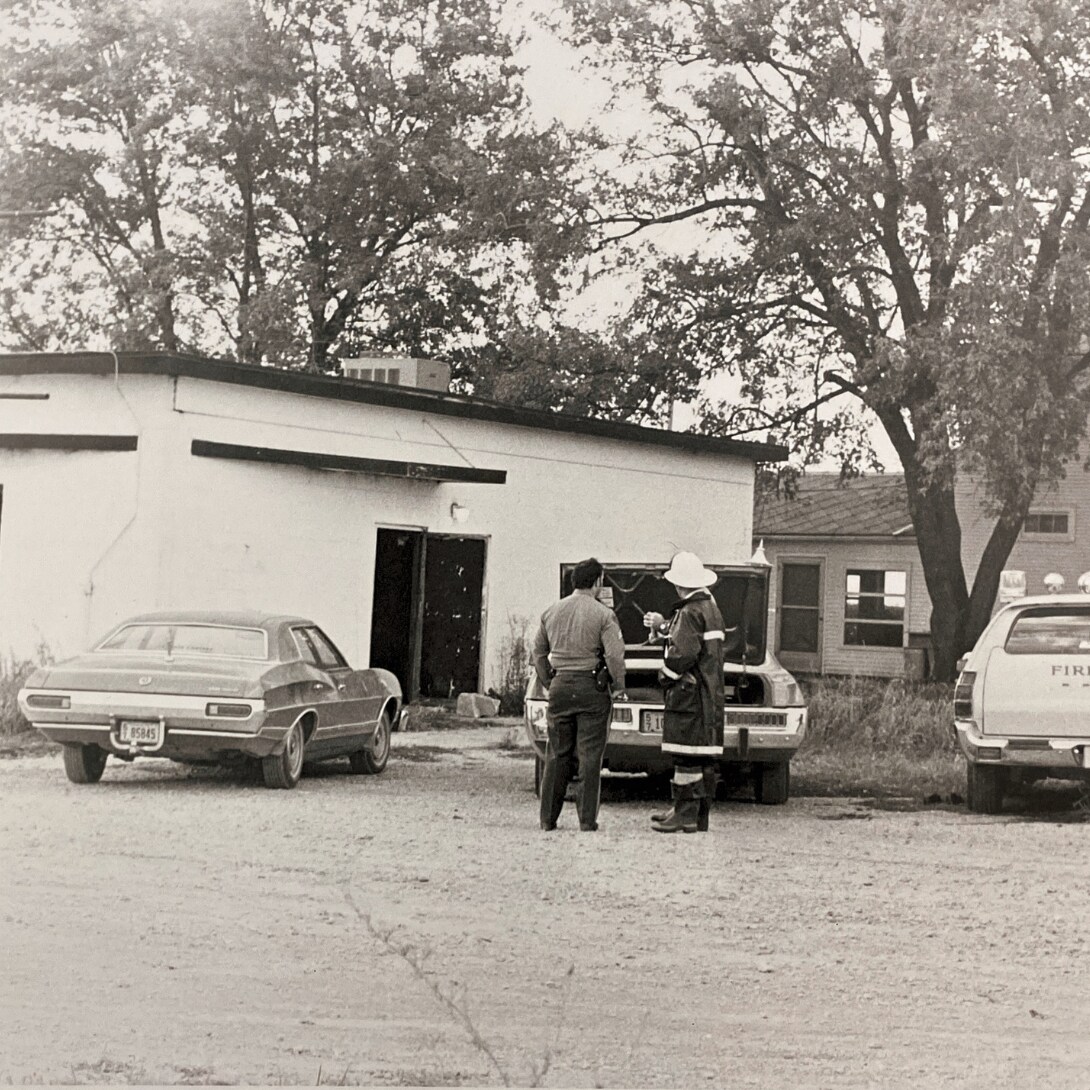 The Salty Dog, before it was remodeled into the dealership.   You can see the house the Dwayne and Janet lived in off on the right.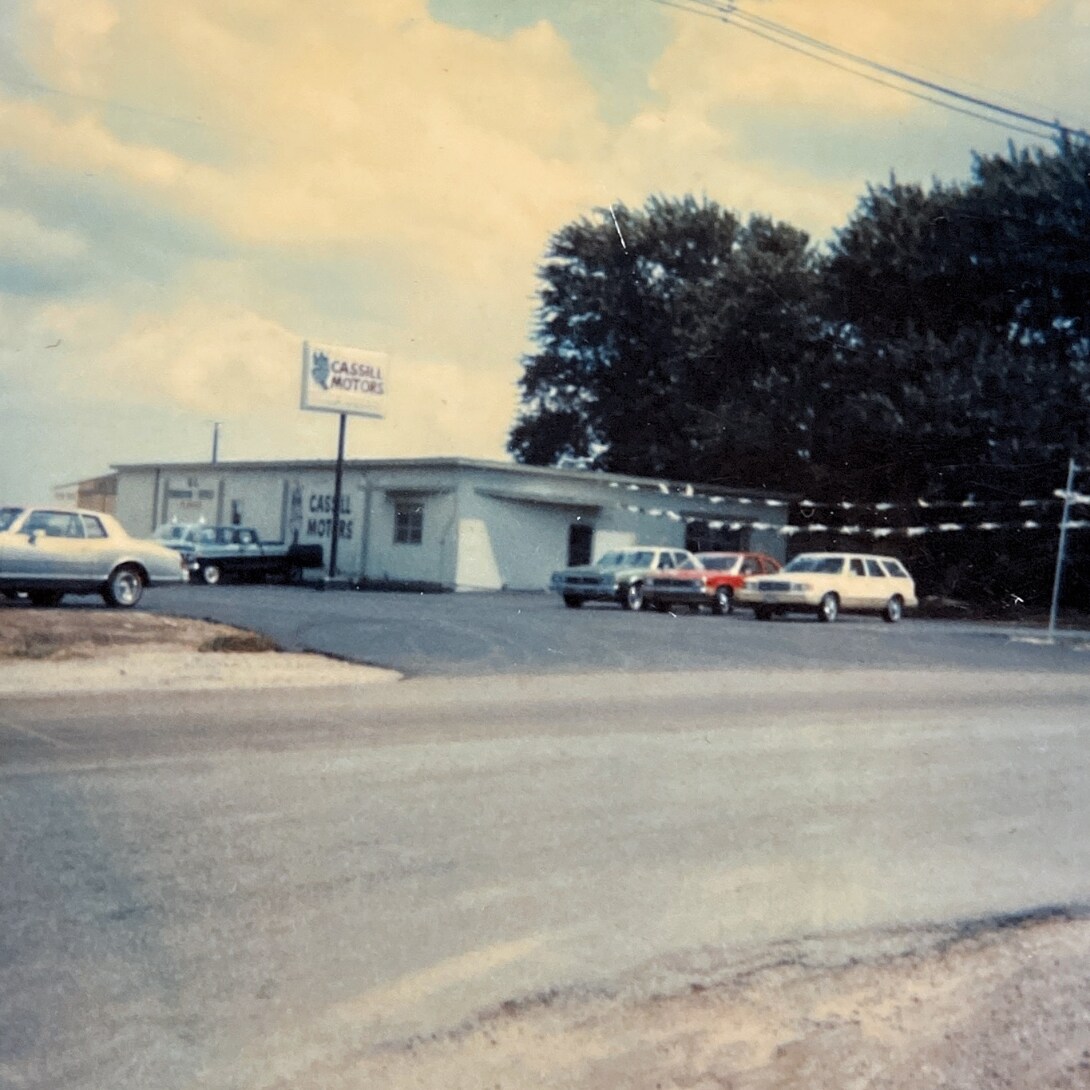 The car dealership was built in the space where the Salty Dog used to stand.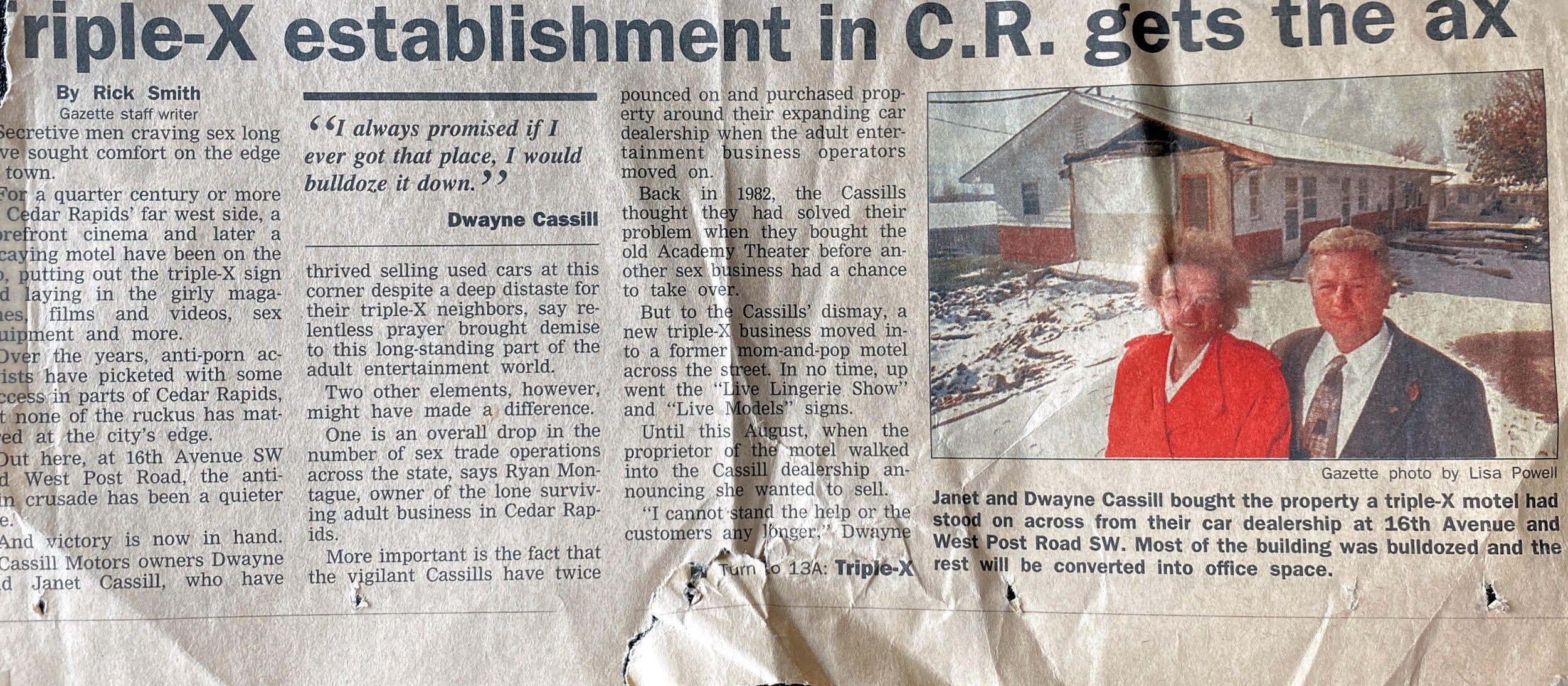 We love being your friends in the car business!
If you have a story to share, contact us! We'd love to hear from you! Submit your story here
Paula Hamer - Pinto owner from 1977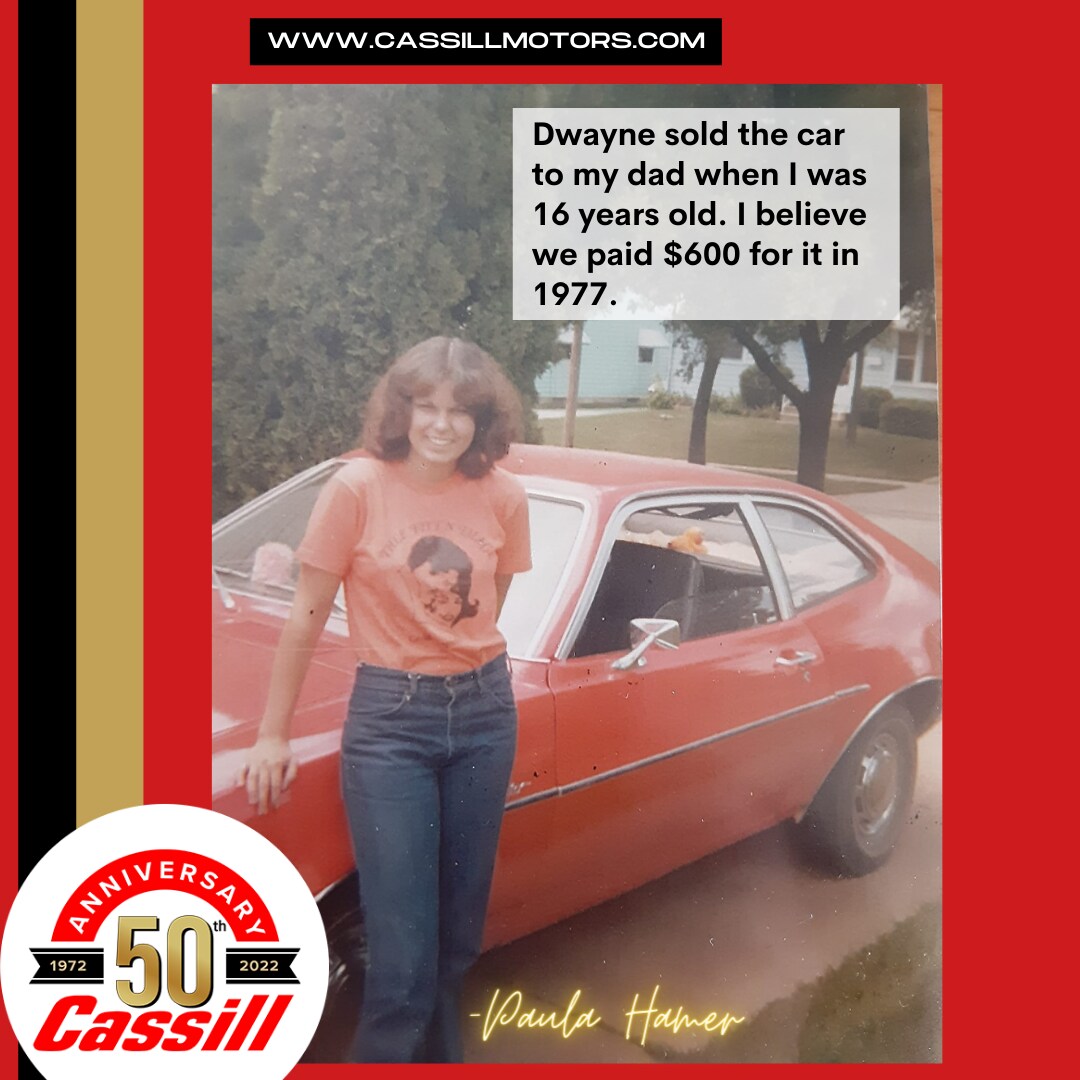 Dwayne sold the car to my dad when I was 16 years old.  I believe we paid $600 for it in 1977.  The Cassill family and mine were members of Twin Pines Baptist Church at the time, and my mom and Janet became good friends.  My sister, Kelly, is Roger's age.  When I became a cosmetologist, Janet became a client up until she moved away.  Both of my parents have become avid fans of NASCAR from following Landon's career.  Dad continues to do business with Cassill Motors and thoroughly enjoys visiting with Jay whenever he is out there.
-Paula Hamer
1977 Customer
---------------------------
We love being your friends in the car business!
If you have a story to share, contact us! We'd love to hear from you! Submit your story here
Carla & Caesar - the Untold Story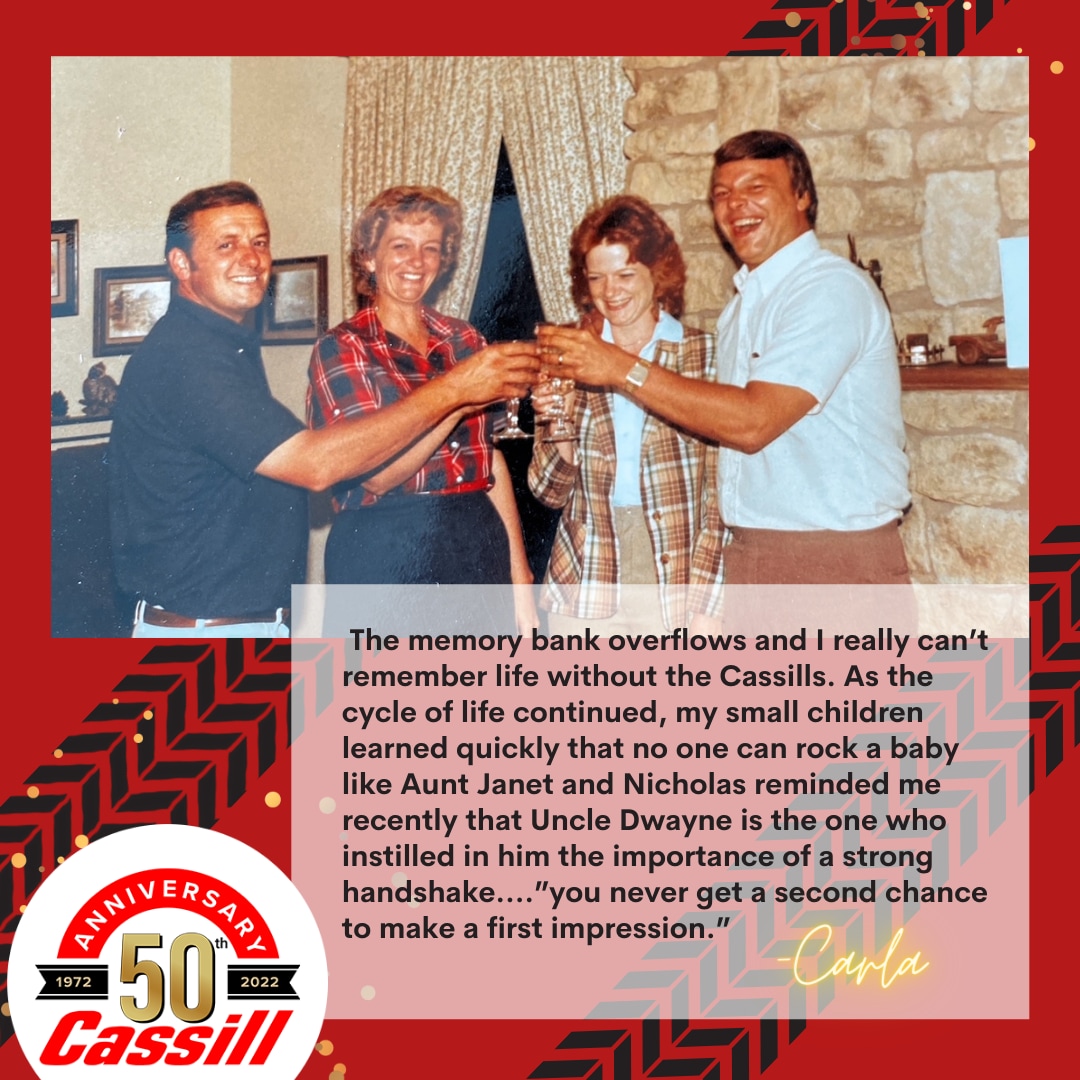 There are certain things in life that automatically come with being family.  That was, of course, where my Cassill Story begins.  That part is somewhat routine and an expected outcome of being blessed with a sister like Janet (Cassill).  However, I experienced life with the Cassills far beyond the family connection.  I moved to Iowa City, directly after graduating from high school and began my most treasured Cassill connection.  My life was full of adjustments to being away from my home in a strange place, learning a new job, separated from everything that was familiar, etc.  Janet came to my rescue and she and Dwayne were willing to share their life with me.  
When I first heard of a new baby joining their family, I was so in hopes this baby would be a girl.  After the joy Roger and Jay had offered, a baby girl would be the perfect addition.  Actually, I was so sure that Janet would be delivering a girl, I immediately began the stockpile of little pink items she would need.  I was so relieved that God did indeed give the Cassill's a baby girl and what a treasure she has been!  It was only fitting for her to come home from the hospital in a pink Crown Victoria. 
Dwayne and Janet were just beginning to broaden the Cassill business and as Steph became a toddler, it became necessary for them to travel long distances to buy cars.  I reaped the benefit in those trips because I had the privilege of staying with the Cassill kids over long weekends.  Basically we grew up together, and they filled a void in my life right then.  I was so young and they were younger.  As silly as it may sound, I still claim the honor of seeing Roger's first touchdown.   He ran the whole length of the field, as I remember it.  On the down side, I got so excited in the bleachers that little Stephanie bounced off the metal seats onto the ground.  She just looked at me like I was a little nuts….no tears, no injuries, no problem!  
The boys were a little ornery and kept me on my toes.  We searched for the family Christmas tree one year, denting the "oh so loved" El Camino in the process.  Roger's friend Joel stayed sometimes so there were 3 crazy young boys that could manage to make me laugh all day.  They made a mischievous trio and it was impossible to ever lose patience totally….Joel was a little afraid of me, Jay had a smile and twinkle in his eye that solved any issue and Roger had a conscience that made him bring me breakfast in bed the morning following their antics.  These were years before I had my own family and Cassills (all of them) were my best friends and provided a safe place for me.  
As years went by and our families grew, the experiences expanded.  There was a course of time when I did Jay's laundry in trade for my car maintenance, which resulted in a sudden alteration to his favorite jeans in a way he'll always remember. 
Some particular pictures come to mind as our families spent time together…i.e., Jay taking my son, Nicholas, down the street in a red Corvette, holding garbage bags full of pop cans out the window on their way to the store for return; Jayne grabbing Jay's hand and leading him anywhere she wanted him to go, the look on Dwayne's face when my husband, Lynn broke the spark plug off, and Janet being the only one with enough nerve to climb to the top of the ladder to paint.  The memory bank overflows and I really can't remember life without the Cassills.  As the cycle of life continued, my small children learned quickly that no one can rock a baby like Aunt Janet and Nicholas reminded me recently that Uncle Dwayne is the one who instilled in him the importance of a strong handshake…."you never get a second chance to make a first impression."  
And then there is Caesar!  On a road trip to Ohio, through Merrillville, IL, a vendor was parked with several metal knights standing in the parking lot.  They were three different sizes and a couple of different finishes.    We laughed at the sight of these guys standing there, looking like the breakout of a medieval war or sparring competition but we continued down the highway.  About 5 miles went by, Lynn and I simultaneously dropped our jaws and said "AWW, what a perfect gift!"  We quickly turned around and after much discussion and dealing, the decision was made and the knight was purchased.  At that point, we realized he wouldn't fit in the car.  We had a blanket in the trunk and the man had some twine so we securely wrapped the blanket around our new metal friend for his ride in the trunk of our car.  However, he was a little too tall so his head had to stick out.  We took off to finish our trip.  It was, however, pointed out to us that it appeared we were transporting a dead body in our trunk.  Being someone who would never even exceed the speed limit, this provided grounds for constant worry about a possible Highway Patrol stop all the way back to Iowa.  Such a relief it was, when we arrived without having to explain or unwrap the apparent corpse from our trunk.  And so Caesar was delivered as a gift to Janet and Dwayne and has stood proud at the dealership ever since.  He has been used for many practical jokes, startling numerous visitors, especially in the dark.  And now it gives me great pleasure when I see him utilized in advertising for Cassill Motors.  Oh, if Caesar could talk, the stories he could tell.  
I realize the focus of this 50 year celebration is about the car business.  And It has been such a privilege to watch this entire family work together to build the business that exists today.  When I think of my Cassill Story, however, they are so much more than the car business.  Seeing Janet and Dwayne's legacy continue through Roger, Jay, and Stephanie, their families and their children's families makes me so incredibly proud and warms my heart.  People grow up and locations change and sometimes relationships get put on hold a little, but memories of days gone by are here to stay.  Thank you, Cassill's, for your addition of so many treasured memories to my memory bank.   
-Carla
Aunt to Roger, Jay, Stephanie;
purchased Ceasar & gave him to the Cassill Family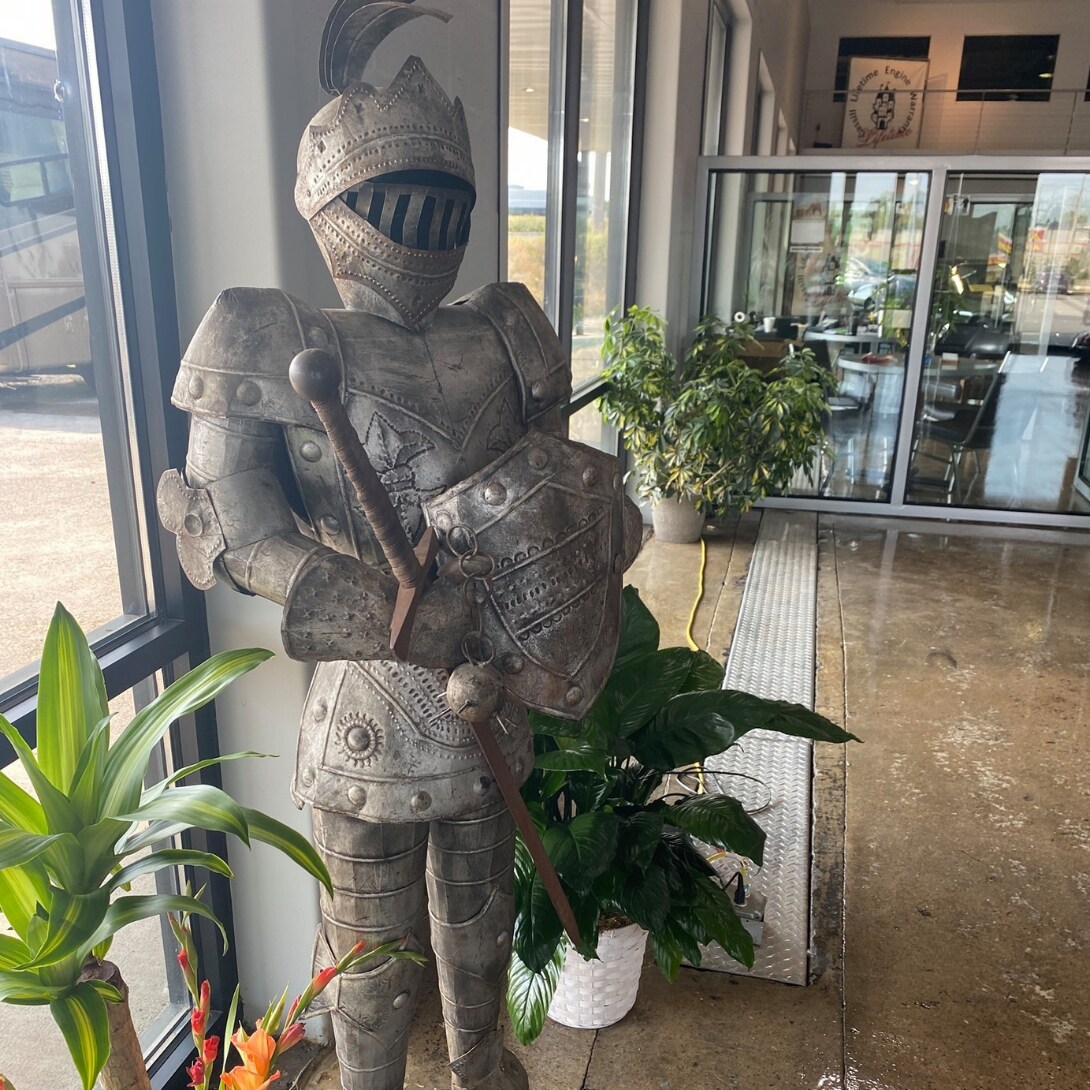 ---------------------------
We love being your friends in the car business!
If you have a story to share, contact us! We'd love to hear from you! Submit your story here
Colleen Cassill - 
Geo, Pilot, & Race Mom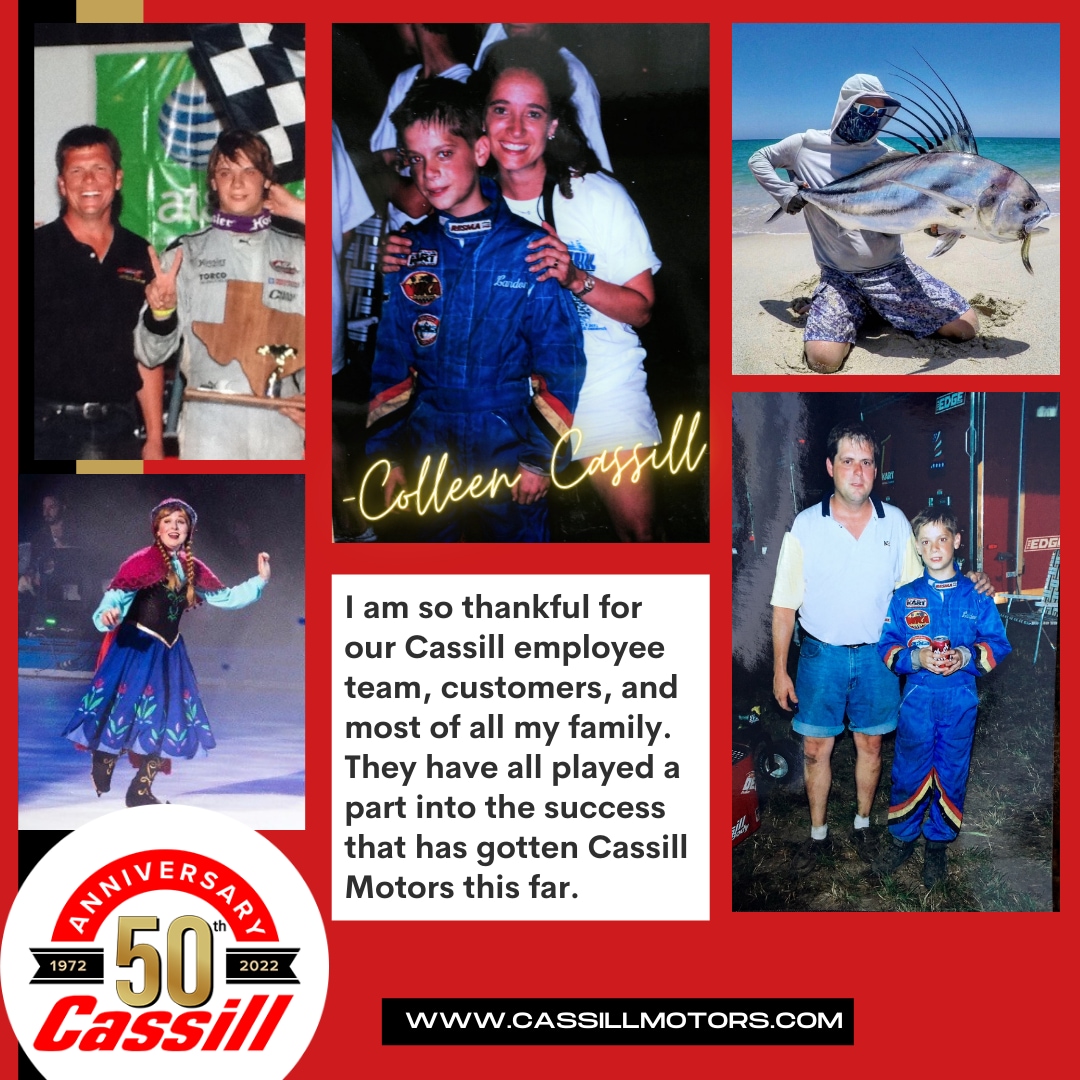 Just a few thoughts and memories as we close out our Cassill Motors 50th Anniversary February race month. It's been an adventure to keep our family car business going throughout all these years. I am so thankful for our employee team, customers and most of all my family. They have all played a part into the success that has gotten Cassill Motors this far. We look forward to the new friends and old ones that stop in to talk shop, racing, and family. It's a privilege and blessing we have to know you.
My time keeping our home life going with raising the kids, volunteering, working in the body shop, and doing car titles, has been very rewarding. I had great mentors with Janet and Marge. Both ladies showed me how to be professional in a small family business. It's been awhile since I've been required to report to my office, as I have stepped back from day to day at the dealership, knowing that our new generation of employees carry on the Cassill name with pride and honor, selling and servicing our cars with the same integrity that Dwayne and Janet had when they were there. I do look forward to the holiday season, helping with all the activities that lead up to our Cassill Motors company year end party. It's always a great way to finish out each year with everyone in the same location enjoying time together. This year seems extra special to us all.
Anyway, it's hard to write about just one of our children when there are 3 that I've raised with my husband Roger of 37 years. Our lives are all inclusive of each other especially when writing about our family racing years. We did that altogether, along with support from Uncle Jay and Grandma and Grandpa Cassill. We never had to worry where the boys were on the weekends. They were at the track, wherever the schedule would take us, like many racing families we met. Our kids became great friends with other racing kids as we traveled from track to track in the Midwest and sometimes in the Deep South.
This racing thing all started on a 12 volt plastic body quad runner when the boys were toddlers. (both still in diapers) Zac would be the one giving his screaming brother, Landon a ride on the back....I have pictures to prove that. I would yell for Landon to hold on tight! Plastic quads, turned into mini quads and rides with Dad out at 600 acres near Lake McBride. Boy, they came home muddy, but full of talk about who went the fastest and highest on the big jumps. What also had to happen was a trip to catch some fish. You see, Zac is our fisherman and outdoor kid. He loves the thrill of fishing and Lake McBride is a favorite fishing spot for him.
Cassill Motors was always involved in billboard sponsoring at Hawkeye Downs, as a way to support the racing community out there. I think Roger secretly wanted to race also, but career and family got in the way. He did some motocross for fun and drag racing as a teenager. So that was the fun he had as a youngster.
There was a Jr. Go Kart exhibition race on a regular Friday night at Hawkeye Downs. The local Kart club lead by Reiken Racing was promoting the Sunday afternoon racing they sponsored at the Downs. Uncle Jay somehow managed to get a go kart last minute that one of our boys could use in that race. I don't remember which boy it was that got to race, I think Landon. I don't know what I was thinking when I said sure! Maybe I didn't have a choice at this point. Both boys had been riding quads for so long, it was a natural progression I guess. I was nerve wracked watching those little kids racing in front of that huge crowd....little did I know.
After that Friday night exhibition experience, Roger and I thought it would be a fun family activity to do, which meant a jump to gas powered Go Kart racing at Hawkeye Downs in Cedar Rapids on Sunday afternoons after church. That took some logistics and prayer. We couldn't do this all alone, Uncle Jay was there for the boys and us as we needed him there too. Lots of loading and unloading of race equipment. Lunch usually was in the crockpot, water and snacks in the coolers, it was work! I think the kids got sick of my Sloppy Joe sandwiches. They always jumped on the idea of Chick Fil A for lunch instead. We figured it was just a little fun activity for us all to enjoy on the weekends. Little did I know, the boys were growing into an activity that became a real obsession of theirs.
It wasn't always the best of times, "life lessons" I think is the phrase they say these days. When competition and adults get involved in kids sports like anything else, stuff happens. Like the time Landon was DQ'd of a first win by a technical issue with an air filter adapter; that of course another racing parent pointed out. We had no clue! Landon went from joy to disgust. We had to try our best to explain to him that we are all learning this together, and put it behind him and be a sport. It was definitely hard, but that proved to me he was a competitive kid, and there will be other races to race. Another race was at a dirt track in Webster City where the "tech barn" officials didn't call a Jr. 1 feature winner until 4:00am in the morning. Guess who stayed up all night waiting to hear the official winner?
However when Zac was 12, he had a tumble at a road course in Wisconsin. He turned in his racing gear, and chose to fish instead after the end of that season. Zac also became Landon's number one technical analyst. Using the Micron software system which was something new to us. We would always hear over the track intercom "Micron Mike, you're needed at tech!" (Mike was the sales rep) Zac was a great asset as he rigged up a transponder and software on the Go Kart Landon raced, and it tracked his go kart data as he made hot laps and practice laps and race laps. He would go over the information on a laptop with Landon. We watched Zac get so much more out of learning that new facet of racing than actually on track racing. Both boys were fun to watch interact in the moment. Roger would tell the kids, "It's not worth doing if it's not fun anymore". So we tried to keep it fun for all of us together.
One wild racing weekend I recall left Roger and I both wondering if we were still having fun…
It was a big National IKF dirt race at the Newton Kart club. At this time the kids knew the routine.
Check in, unload race equipment, organize, drivers meeting, lunch etc.
With one exception it seemed that Roger and I were the only ones doing the pre race work. Hmmmmm……………Where are the kids? Well, Zac was found along the Newton creek which ran along side the track fishing, when we needed his help with the computer set up, Landon was hobnobbing and playing cards (poker, I think) with his race friends who came in from all over the country to race. Echo was doing the same, playing with her friends and having a great time! I chuckle now, I was such a pit Mom! We weren't sure if they were there to race or if we were. Oh well, play first, race later right?
Fun fact; Did you know there was a Go Kart track we raced at in a small Iowa town called "Jamaica". The kids got a kick out of telling their friends they went to Jamaica for the weekend.
If my memory serves me right, there is a picture of 7ish year old Landon earning his first trophy in a Jr. Go Kart race at Hawkeye Downs, Cedar Rapids. He wanted a picture as he was so excited so we found the perfect backdrop. (The Tech Barn) Little did I know that excited boy would find a way to make a living doing what he loves to do. Not without taking that Go Kart back home and cleaning it up and getting it ready for his next week race, that was his incentive. No work, no race! (I had to get his first official autograph on that picture too!)
Landon chose his number and paint design after his favorite driver of the time, Mark Martin. I remember Landon as a toddler learning numbers, colors, and sponsors by using his matchbox car collection. He could recite all of them by memory. It was very entertaining. Landon moved up in racing on the full 1/2 mile track of Hawkeye Downs in the Legends division, Modified, and Late Model division. Those were fun nights for us all. Our Cassill race team grew to several friends who loved the sport and were willing to show up to help us in the pits. Thank God for the racing volunteers!
Hawkeye Downs is our "home" track for our family and many other local drivers we have supported through the years. It's a place that brings us altogether to enjoy the competition of grassroots racing.
Echo, our daughter who we needed to keep track of and engaged at the track during long race weekends went with the flow of things. This is where the other race families had the same issue, and the little kids that didn't race would end up at our motorhome. There we had a little swim pool that the kids would have fun in, along with snacks and TV. That was the same kiddie pool that we would wash dirt tires in during the racing at night. (The kids helped to get the built up dirt off, so they could race again.) Dirt tracks were Landon's favorite, but boy were they a lot of work to keep his equipment clean and ready to race in between hot laps, heat races, and feature races. The dirt tracks always were late nights into wee hours. They were the most popular tracks to all the racers as well. Large crowds of racers and fans would show up. Iowa is known for all types of dirt racing from late models to Go Kart racing. Echo loved to watch the races and help out in the pits. She has always been Landon's number one fangirl. She stood on the wall at his first Nascar race at age 12, right next to his Nascar team members. What a thrill for her!
Echo, a "retired" professional figure skater was with Disney on Ice for 6 years. As a University of Denver graduate, commercial pilot and flight instructor, she continues to follow her brother in NASCAR and tries to make it to the track when her schedule allows.
Fun Fact: Echo has traveled to over 20 countries on tour with Disney on Ice.
Zachary, went off to college in Minnesota to be near fishing. He is now a Senior Geologist working in the energy industry in Saudi Arabia with his wife, Mari. He has shared with us that Isaac Newton Christian Academy & Jefferson AP courses prepared him for college. His life has unfolded in a very interesting way, I definitely didn't expect our oldest son to end up working in the Middle East. He met and married his love, and took all his fishing gear with him for days off. Not too surprised at that though.
Fun Fact: Zac caught the elusive "Rooster" fish off the coastline of Mexico -Only a handful of fisherman do that each year.
Landon, still a professional NASCAR driver, wife Kaitlan and their 4 children are his joys in life. I could write a bunch more, but I know the racing families out there can relate to the juggle between all the parts and pieces it takes to put your kids out on a track to race week after week, can be overwhelming financially. We were friends with a racing family out east, where the wife had to forgo a new dishwasher for her son's new Go Kart body that needed to be replaced. I could relate to that. Sacrifices Race Moms make... There came a point with Landon where we had to release him into a career that he was dreaming about. We couldn't leverage anymore, it was his race experiences growing up and determination that got him his first opportunity in a NASCAR "Gong Show" combine. After Landon won an Octoberfest race in Wisconsin, he was invited to a series of driving tests at different tracks. He came out of that opportunity with a couple of options, and his NASCAR future was rolling. I felt relieved, no more sponsor chasing for our racing. Landon was getting his own paycheck from his first team in North Carolina. I don't know how they do it now for sure with young drivers, but it was racing or bust for him at that time! It amazes me how he has been able to persevere in the NASCAR racing world, not only learning the new rule packages and set ups for this new 2022 race car, but learning every facet of the racing business. He has expanded his interest in racing with the iRacing world and seems to love that as well. I get frequently asked, if I get nervous watching Landon race. My response is "Yes, super speedway tracks are my worst. I pace and sometimes you can find me curled up on the floor!" Glad Daytona is over for now. We all look forward to how this 2022 race season will unfold for him and pray a successful one.
Fun fact: Landon earned Xfinity Rookie of the Year 2008 and earned 4 Championship NASCAR rings on the Jimmy Johnson #48 team.
I am blessed to have my family and grandchildren.. I couldn't have raised my own children without the loving support and help of my husband. Together Roger and I tried to bring out the best in all our children, with love and respect and encouragement in all stages of their growing up years. We definitely don't have a blueprint on raising kids, the Bible is our blueprint, as we were young ourselves. Maybe we just grew up with them? I feel it an honor and gift from God to be grandparents and try to be the best I can be, given this opportunity.
Fun Fact: I'm just a Wife, Mom, & Grandma from Cedar Rapids, Iowa. "With God, all things are possible." Matthew 19:26
I hope you enjoy reading a little about our Cassill race life. It's a wild ride for sure!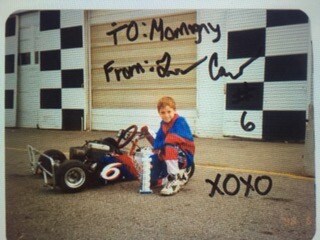 Landon's first autographed hero card - to his mom!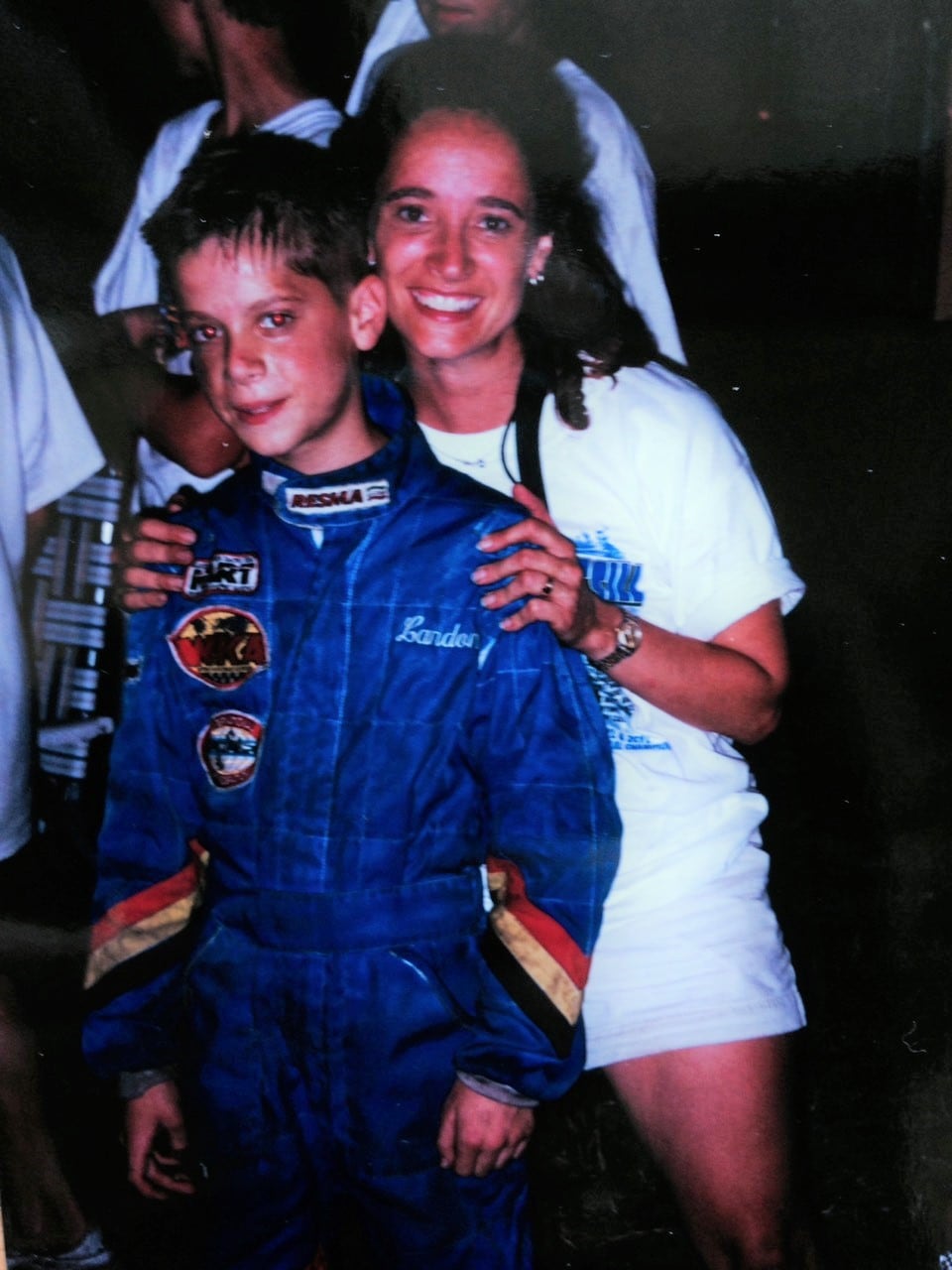 Landon as a young driver with Colleen.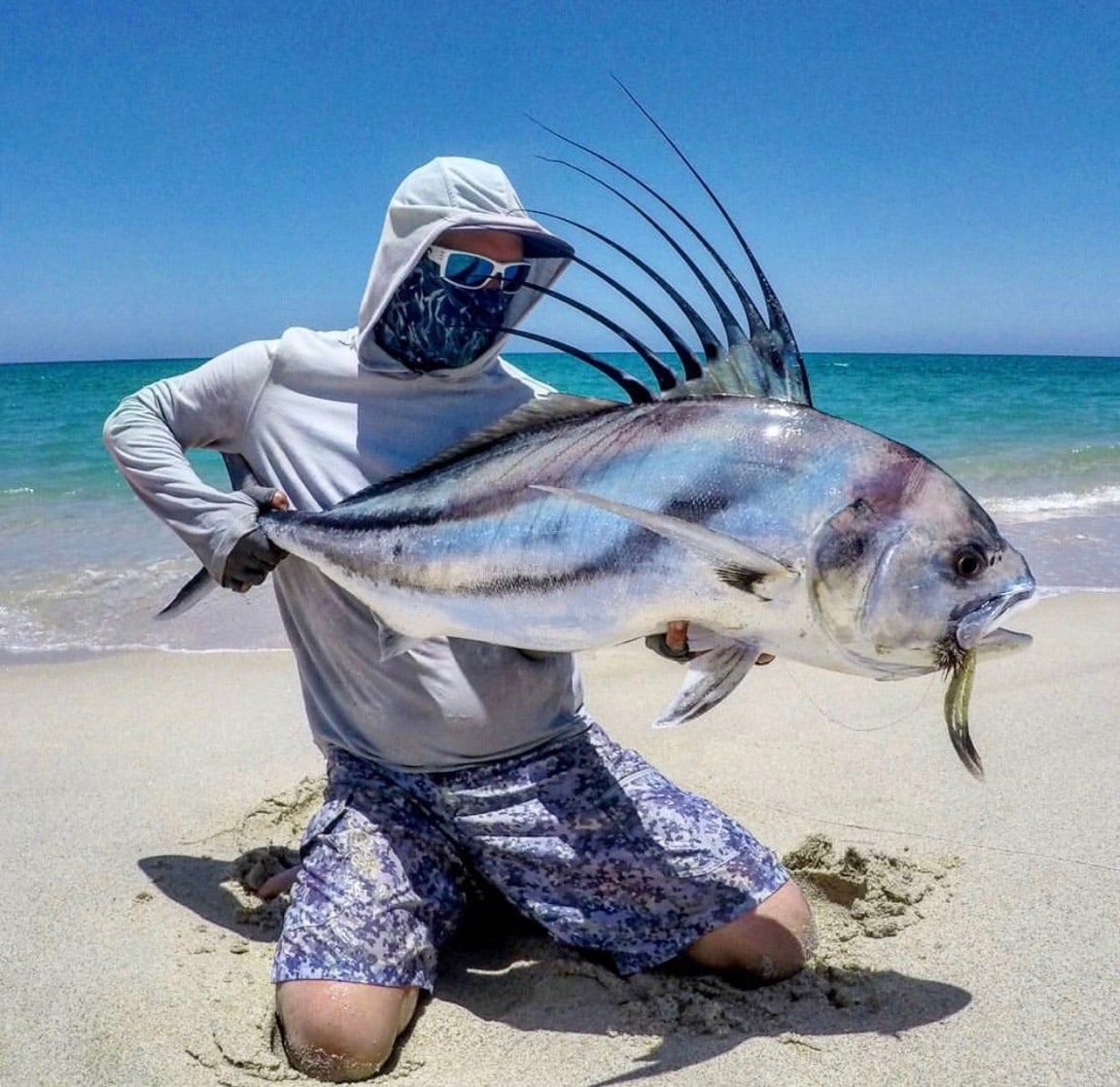 Zac caught the elusive "Rooster" fish.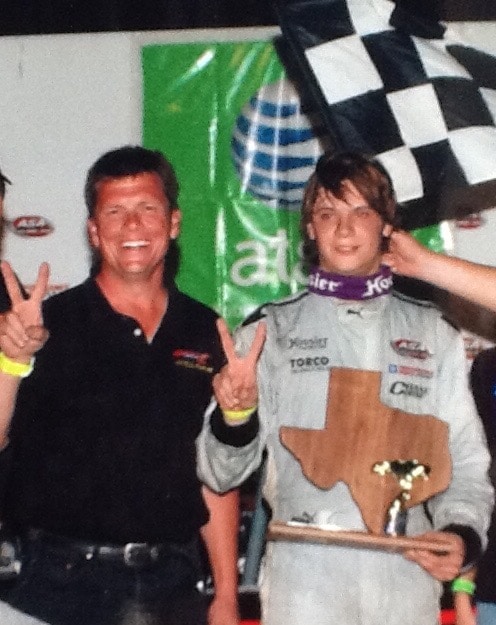 Roger and Landon after a big win.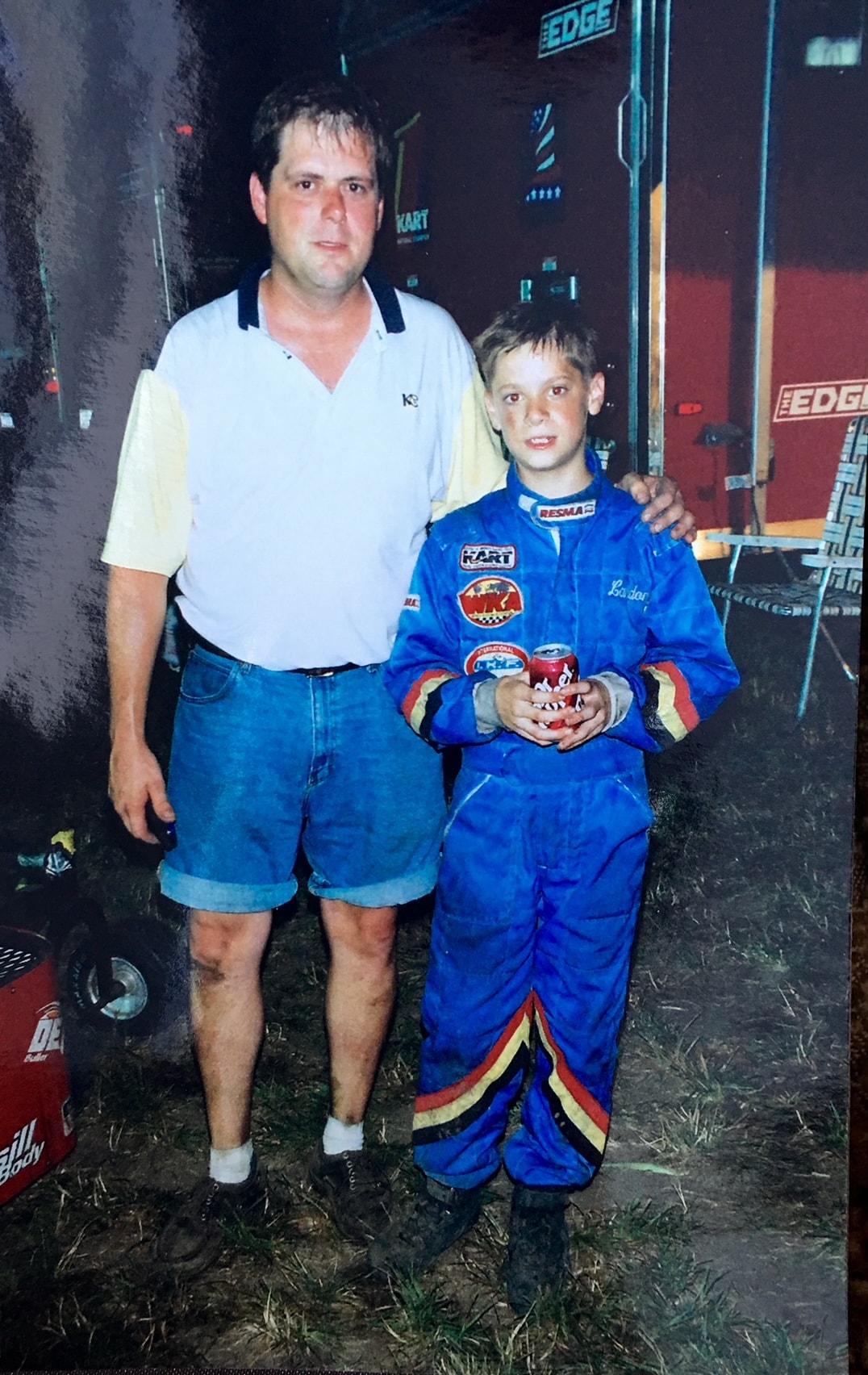 Unlce Jay (My Car Geek) and Landon.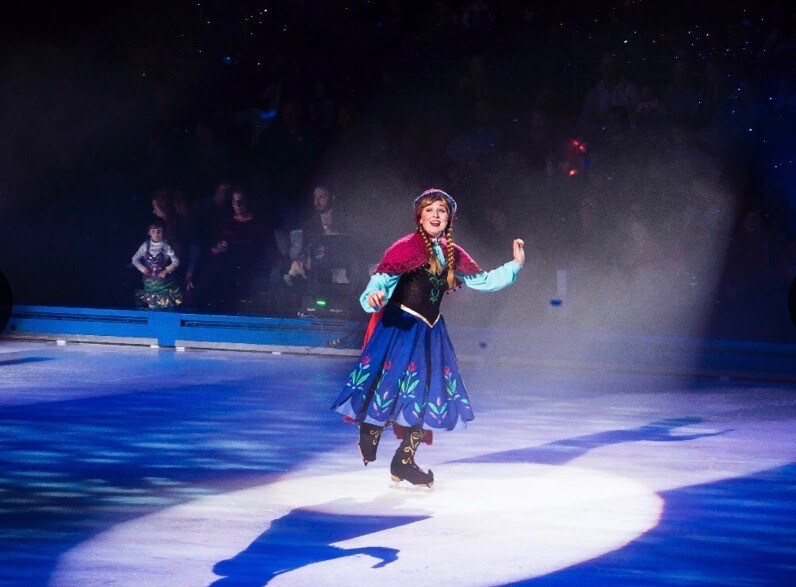 Echo skating in Disney on Ice as Anna from the the Disney movie Frozen.
-Colleen Cassill
Wife, Mom, & Grandma
--------------------------------------------------
We love being your friends in the car business!
If you have a story to share, contact us! We'd love to hear from you! Submit your story here
Danny Lehmkuhl - Local Racer & Cassill Friend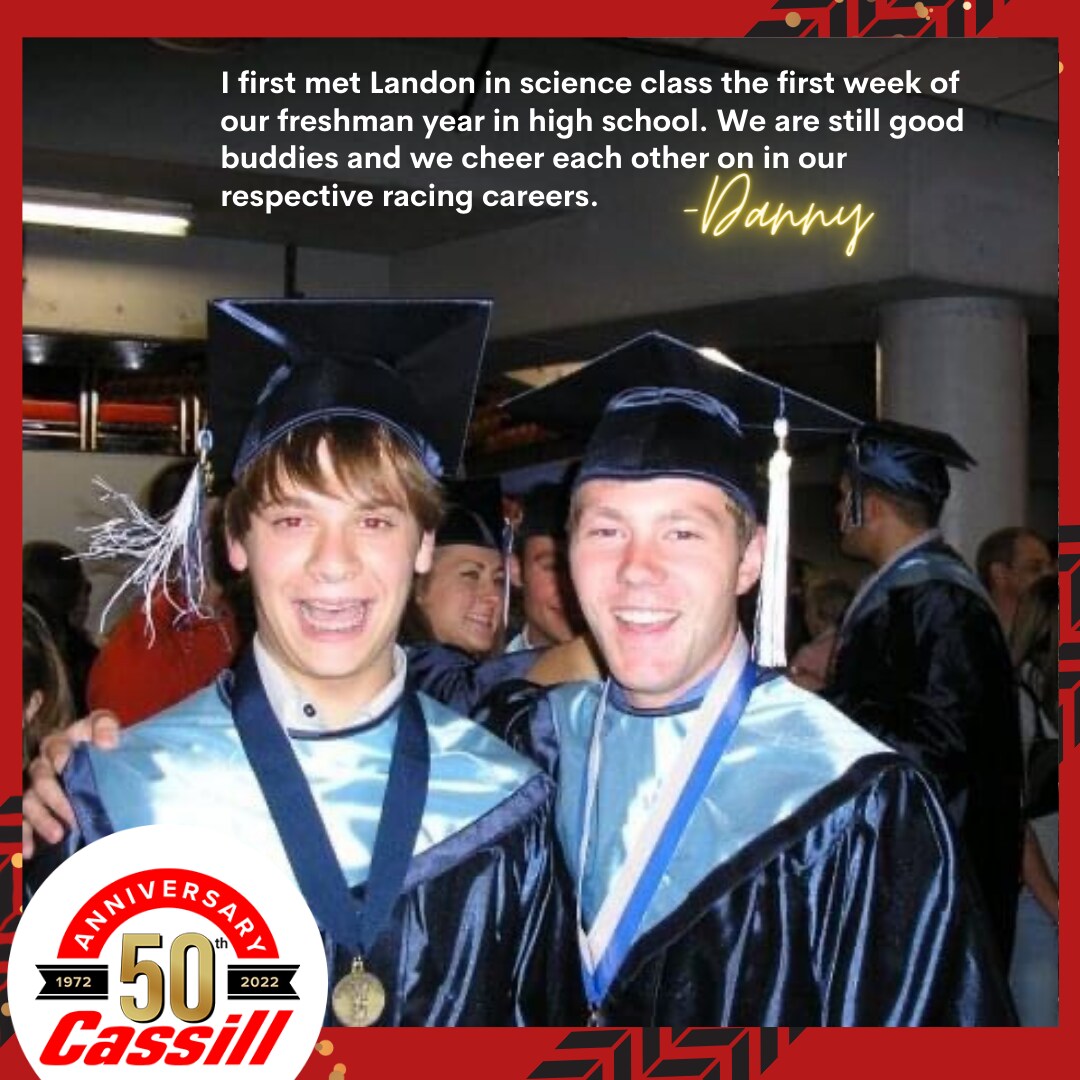 I first met Landon in science class the first week of freshman year in high school. We started hanging out and spending time in the race shop after school, I was hooked. I began traveling and going to nearly every Latemodel race all the way through high school. Colleen and Roger treated me as one of their own. We were in the shop every day after school. Later I started working at the dealership part time and eventually full time for many years. Now I am proud to be representing their family and the dealership family that I know well on the side of my car. It has been a dream of mine my entire life to race and Roger and Cassill Motors have made that a reality for me.
-Danny Lehmkuhl
Locally Sponsored Racer, former employee, and friend of the Cassill family
-----------------------------
We love being your friends in the car business!
If you have a story to share, contact us! We'd love to hear from you! Submit your story here!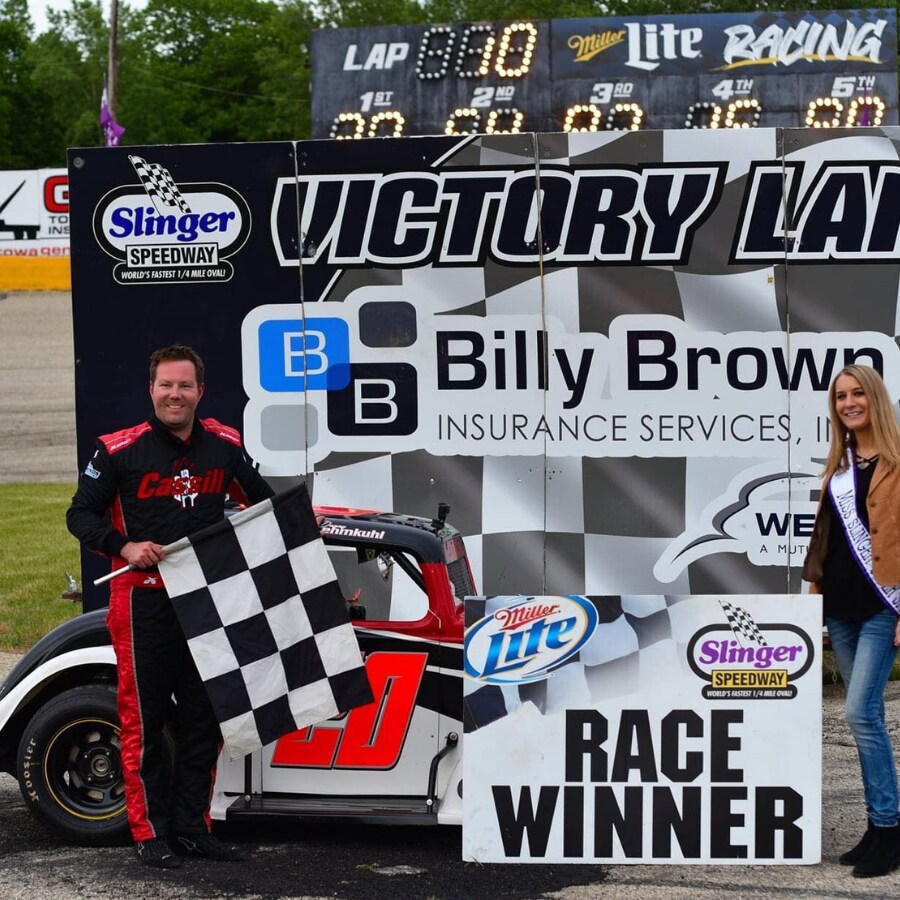 Danny's race car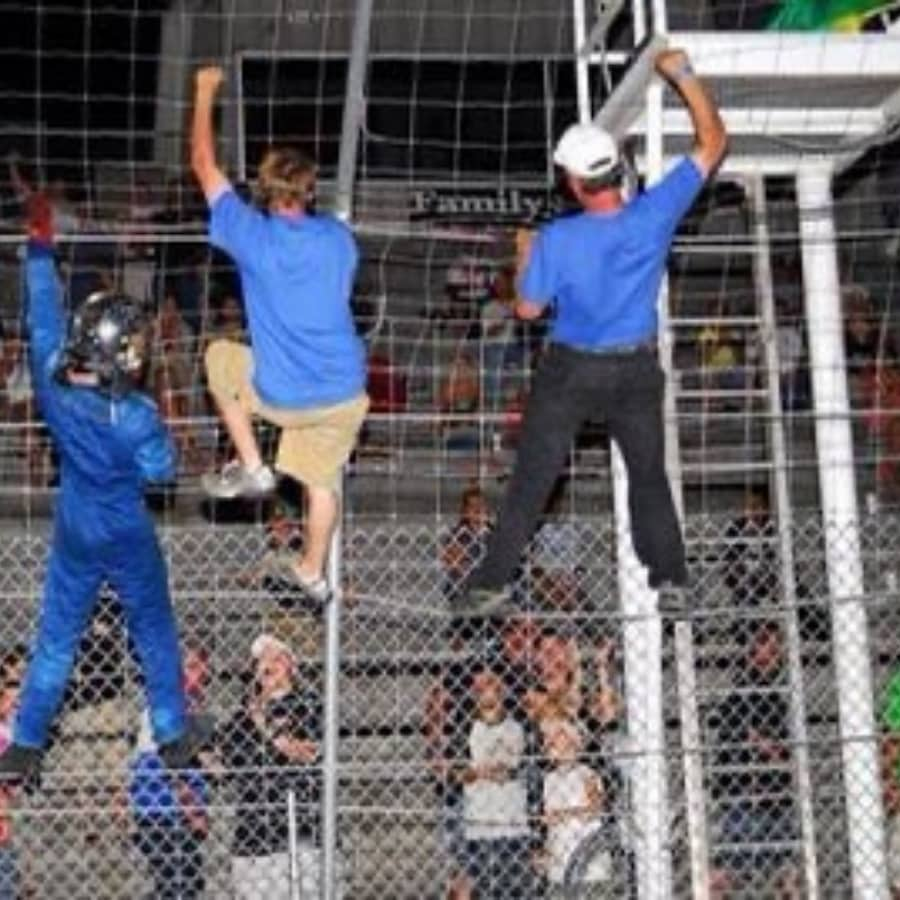 Landon & Danny & Rich Lushes climbing the fence after a big win.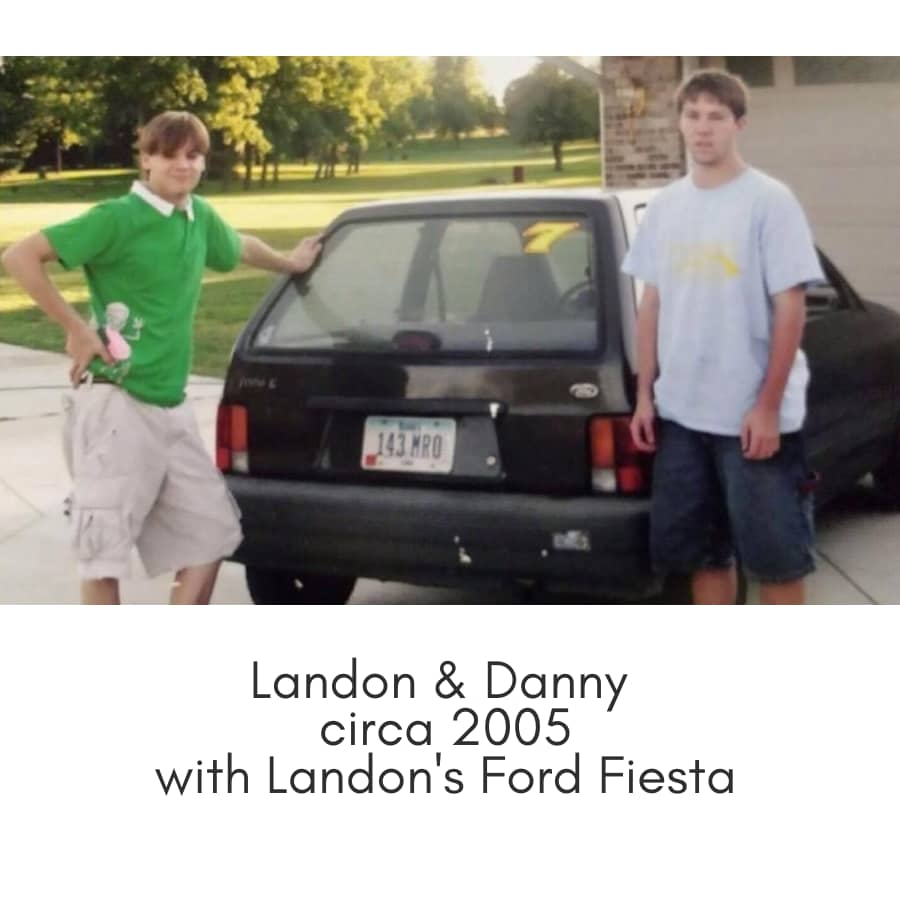 Tony Olson - Sponsored Local Racer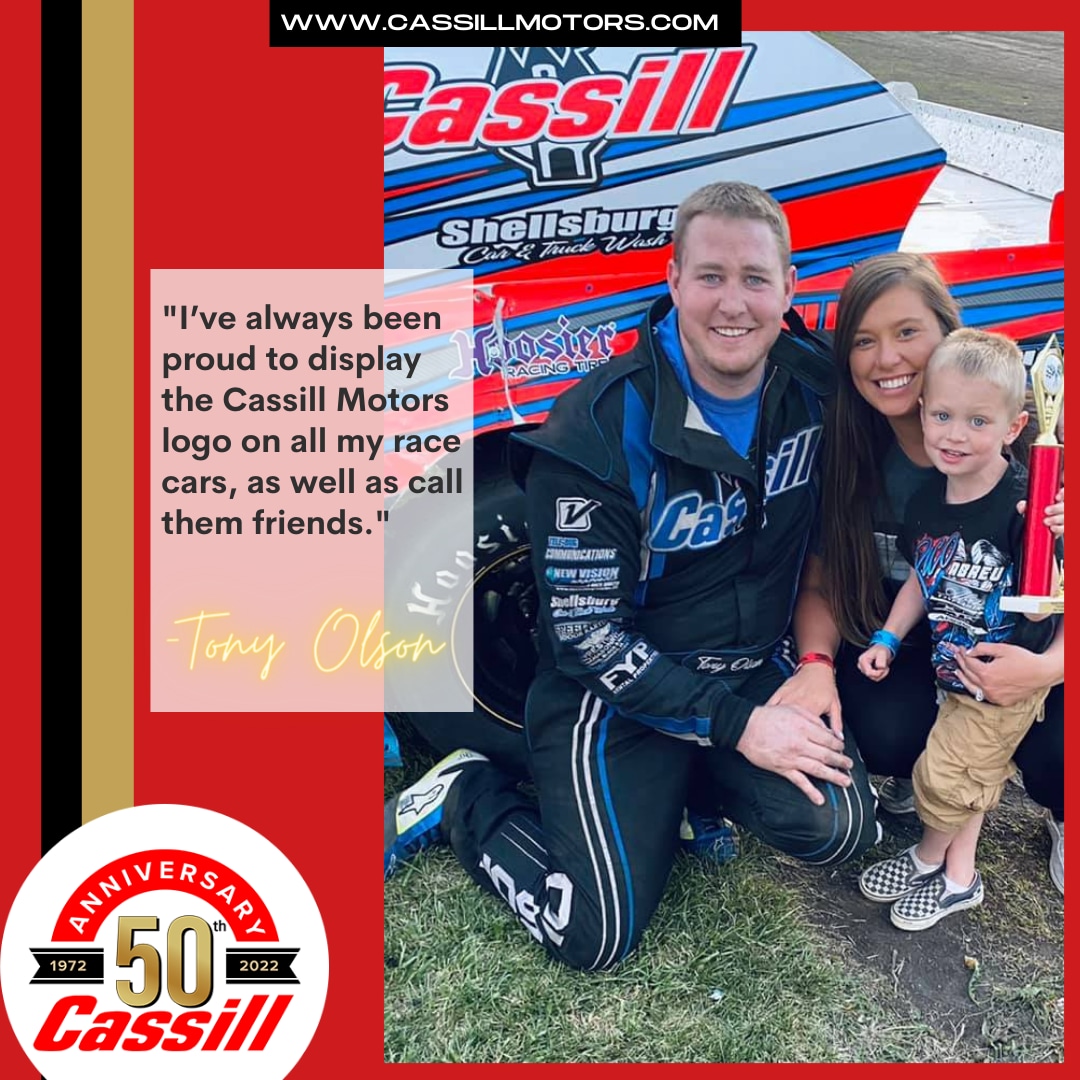 My first experience with Cassill Motors was when I was in high school and I bought my first car from there. I first met Roger and while getting to know him he took an interest in my racing career and offered to sponsor my race car. 
For the past 18 years Roger has not only been a huge part of my race team, but he has supported me on and off the track. 
I don't know if I would still be racing today if it weren't for the years of dedication, encouragement, and support from Cassill Motors. I've always been proud to display the Cassill Motors logo on all my race cars, as well as call them friends.
-Tony Olson
Cassill Motors locally sponsored driver
--------------------------
We love being your friends in the car business!
If you have a story to share, contact us! We'd love to hear from you! Submit your story here!
Jeremiah Davis - Local Racer & Employee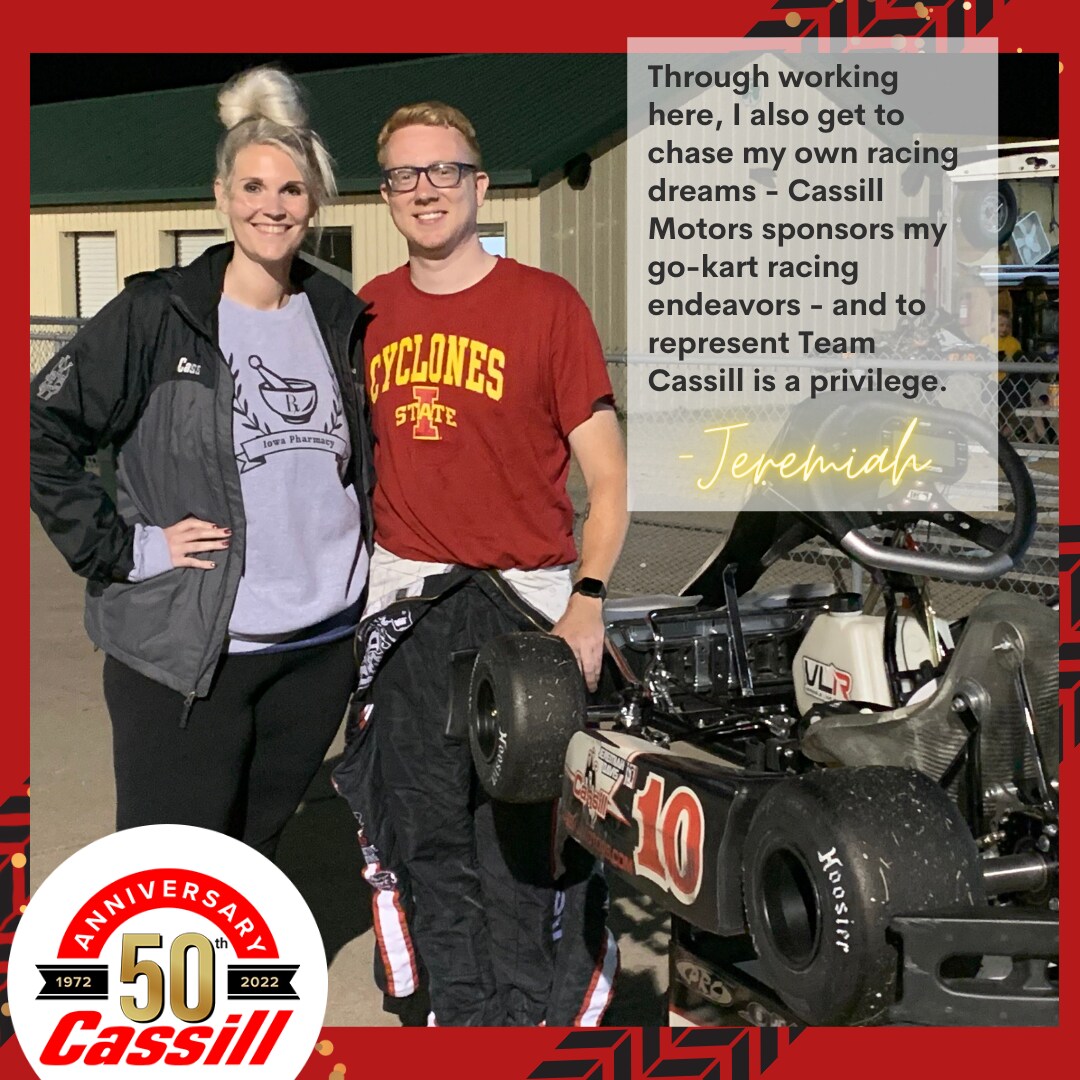 I was told once that if a person wants to be successful, they should attach themselves to successful people. It was that principle that ultimately brought me to Cassill Motors - both as a customer and as an employee.
After I moved to Cedar Rapids in 2013, I became acquainted with both Landon and Roger Cassill through my previous job. It was because I knew them that I first came to the dealership as a customer. I had shopped several places before that, but in the course of buying a car, I never was treated like a person - more of a commodity. My experience all those years ago made me a customer for life. 
When my professional life changed in 2018, and I was looking for a job, that treatment resurfaced. Roger offered me a job, and, frankly, I didn't think much of becoming a salesman at first. But I was reminded of the aforementioned principle - did I want to be successful, or stubborn? I needed to take a chance out of my comfort zone and challenge myself. That decision set the course for a life change for which I will always be grateful, most especially the fact that it kept me in Eastern Iowa, where I met my wife three months after starting at Cassill.
Through working here, I also get to chase my own racing dreams - Cassill Motors sponsors my go-kart racing endeavors - and to represent Team Cassill is a privilege. I'm grateful and proud to be here, and do my best to pay that forward to everyone I meet when they stop in.
-Jeremiah Davis
Cassill Motors Employee and locally sponsored Cassill Motors driver
--------------------------
We love being your friends in the car business!
If you have a story to share, contact us! We'd love to hear from you! Submit your story here!
Steve Christofferson - Customer & Vendor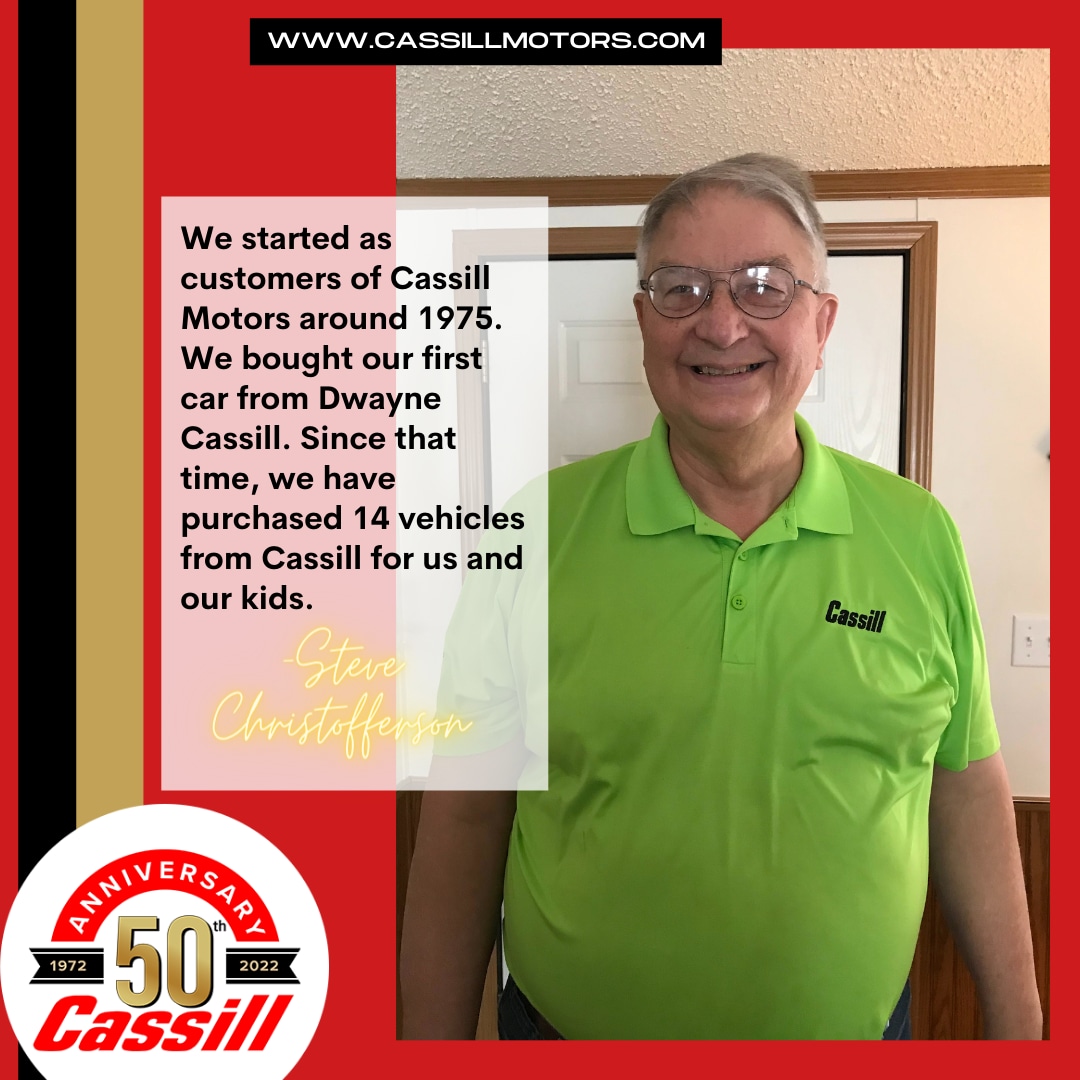 We started as a customer of Cassill Motors around 1975. We bought our first car from Dwayne Cassill. Since that time, we have purchased 14 vehicles from Cassill for us and our kids. Jay and Roger Cassill are super friendly and very honest, which is very important when purchasing a used vehicle. We also became one of Cassill's vendors about 15 years ago, as ABC Embroidery we began producing apparel for their employees with their logo embroidered on the apparel. Recently we did shirts with their 50th Anniversary logo on them for their entire staff. Their customer service is the best, they stand 100 percent behind the vehicles that they sell. Our last two vans have over 200,000 miles on them. We would highly recommend everyone to go to Cassill Motors when you are ready to purchase your next new or used vehicle. You will be very glad that you did.
-Steve Christoffersen
-ABC Embroidery
--------------------------
We love being your friends in the car business!
If you have a story to share, contact us! We'd love to hear from you! Submit your story here!
Crystal Cassill - Title Office Manager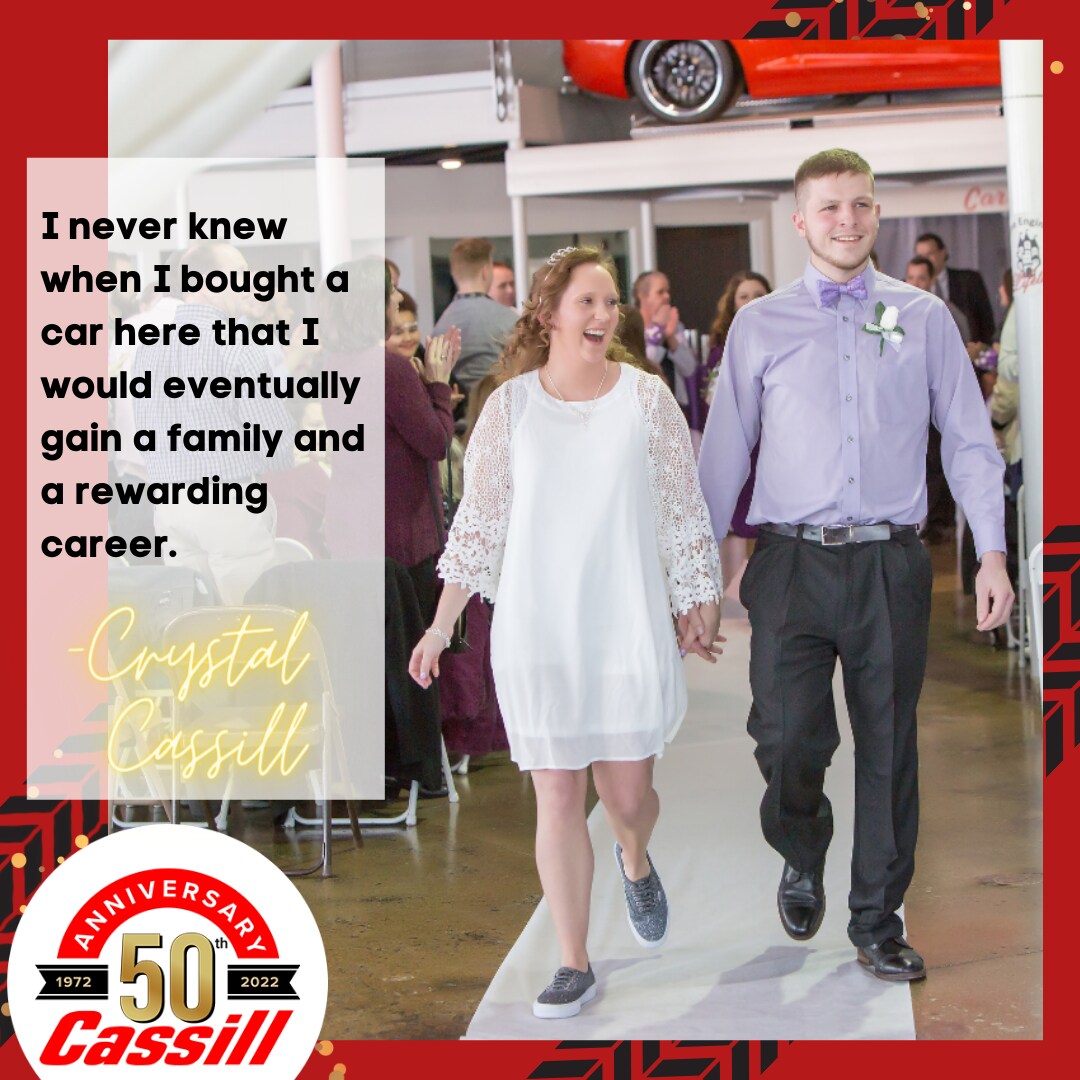 "I bought my first car from Cassill Motors in 2017. Shortly after that I got my first job at Cassill, as a part time office filing assistant. In 2018 I was offered a full time position as a service advisor. In 2019 I moved into my current role as the Title Office Manager.  Along the way, I also met my husband, Jeremy Cassill. We even got married in the dealership, and now we have 2 kids!
I never knew when I bought a car here that I would eventually gain a family and a rewarding career."
-Crystal Cassill
Cassill Motors Employee
---------------------
We love being your friends in the car business!
If you have a story to share, contact us! We'd love to hear from you! Submit your story here!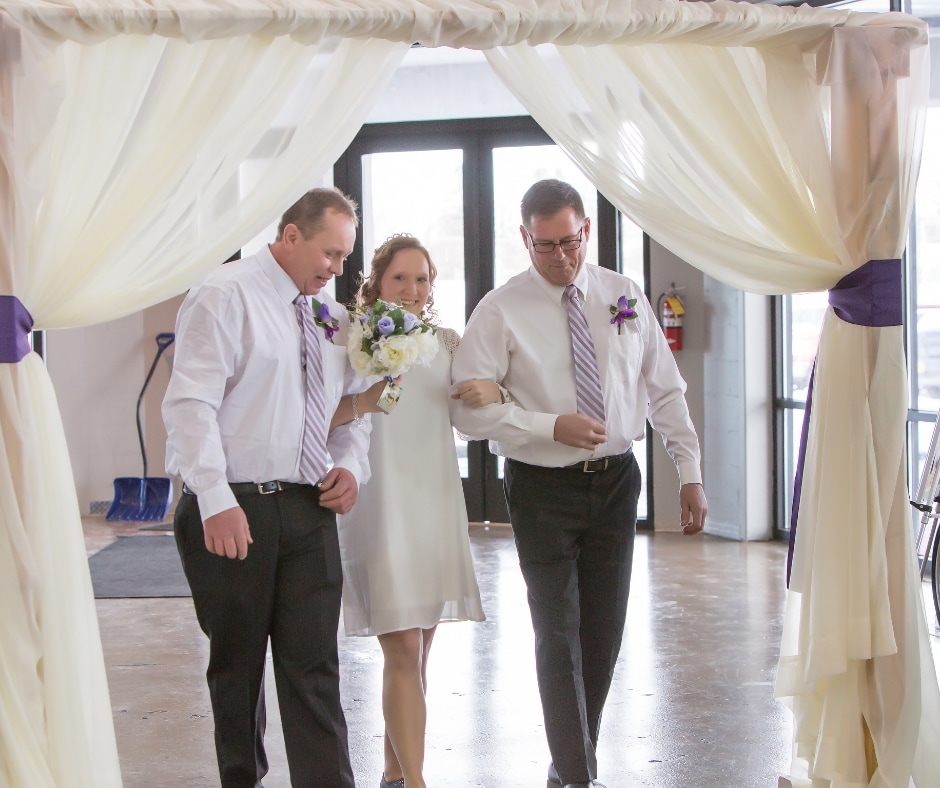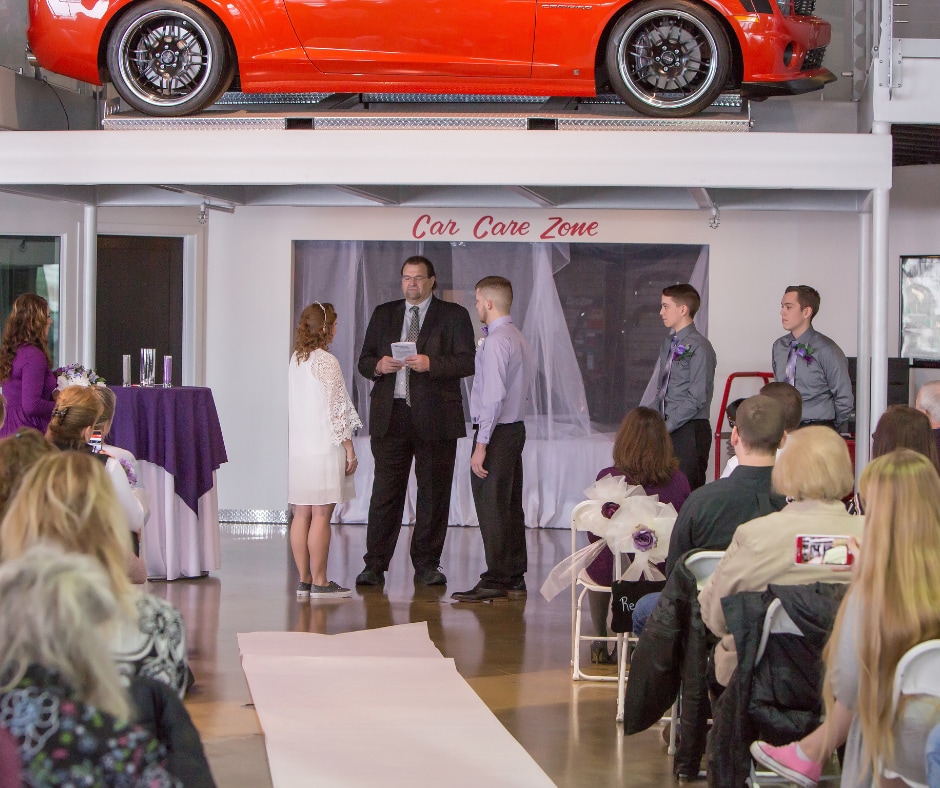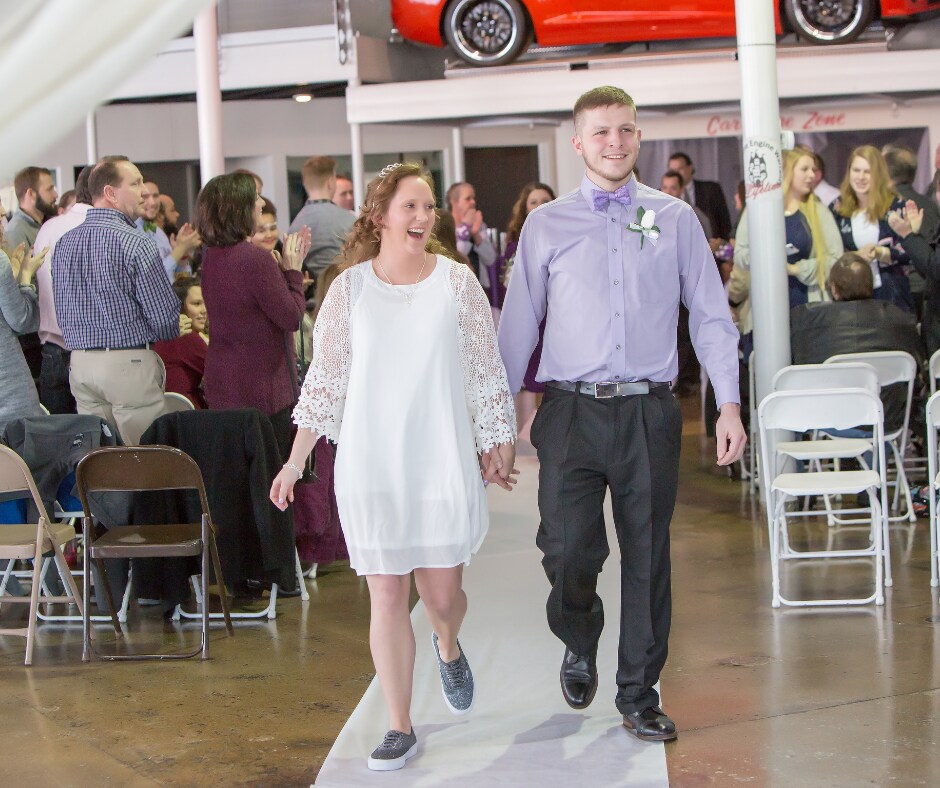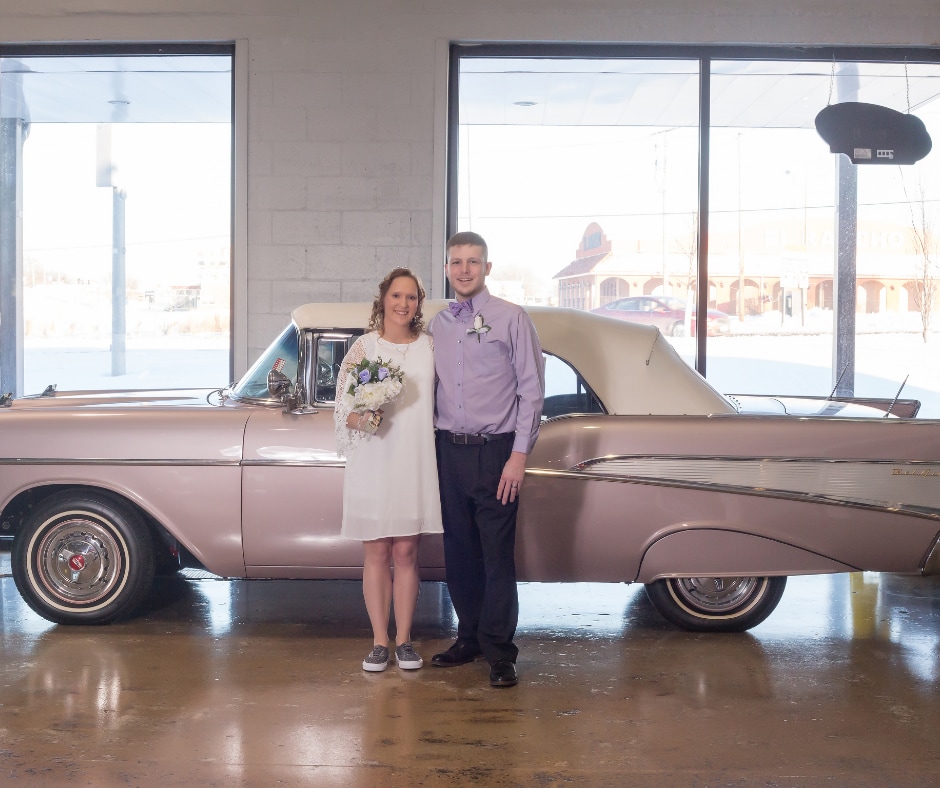 Earl Schwartz - Dwayne's Former Co-Worker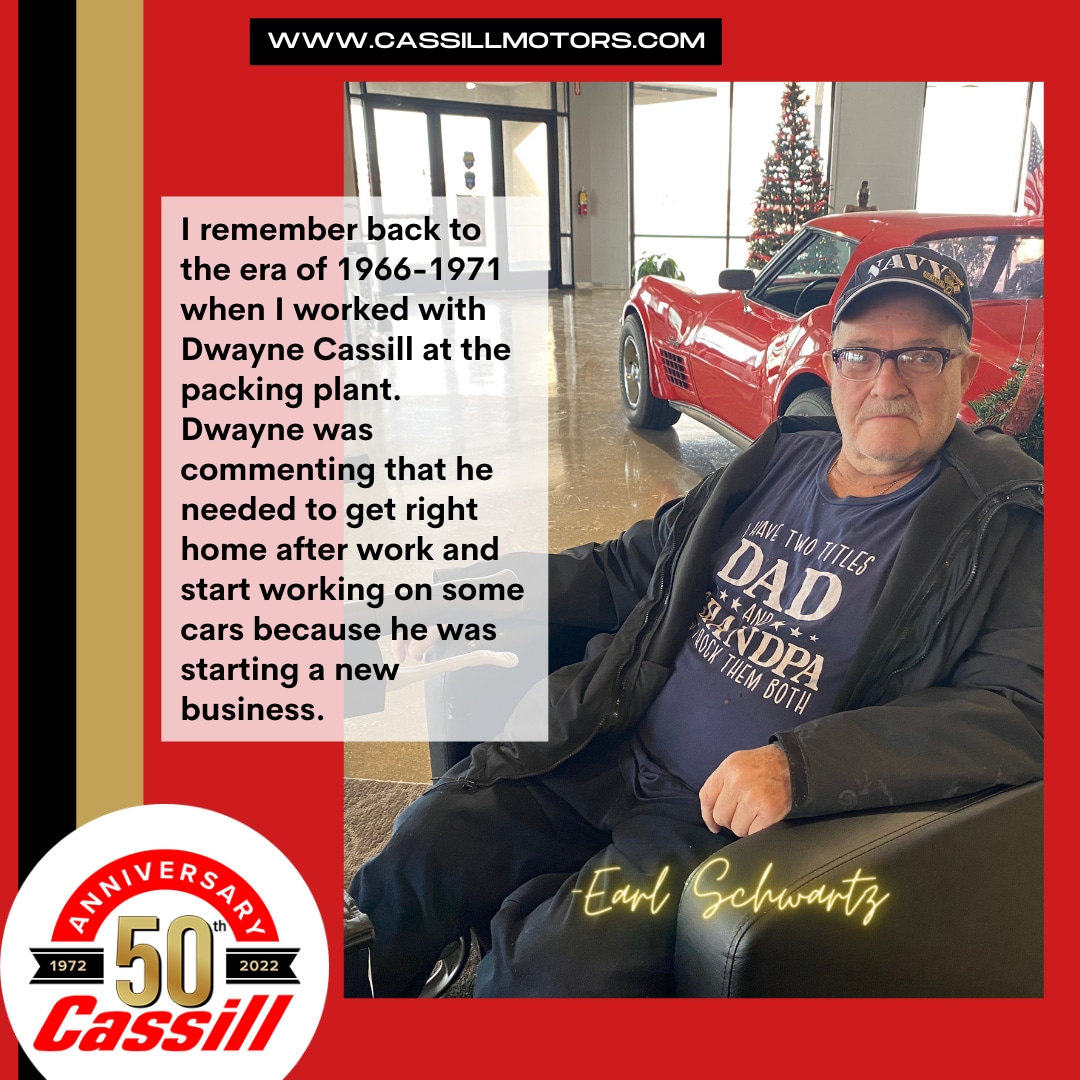 I remember back to the era of 1966-1971 when I worked with Dwayne Cassill at the packing plant.  Dwayne was commenting that he needed to get right home after work and start working on some cars because he was starting a new business and he needed to do some mechanical work on the cars before selling them.  
After years went by, I saw Landon Cassill out racing at Hawkeye Downs when Landon was beginning his racing career. I recognized the Cassill name from working with Dwayne at the packing plant.
Many more years went by and I needed a different vehicle.  I went to Cassill Motors in March of 2021 and traded in my vehicle and purchased a handicap accessible van that I saw on the website.  Now I can travel with my wife and grandkids because of the space and accommodations in the van. I also get my van serviced at Cassill Motors and have told other people that they should come shopping here now. 
I hope to travel to Florida this winter and watch Landon race in person at Daytona.
-Earl Schwartz
Former Co-worker and Current Customer

------------------
We want to thank Earl for his service in the Navy, for sharing his story with us, and for being a Cassill Motors customer! 
We love being your friends in the car business!
If you have a story to share, contact us! We'd love to hear from you! Submit your story here!
Susan Houy - School Librarian & Customer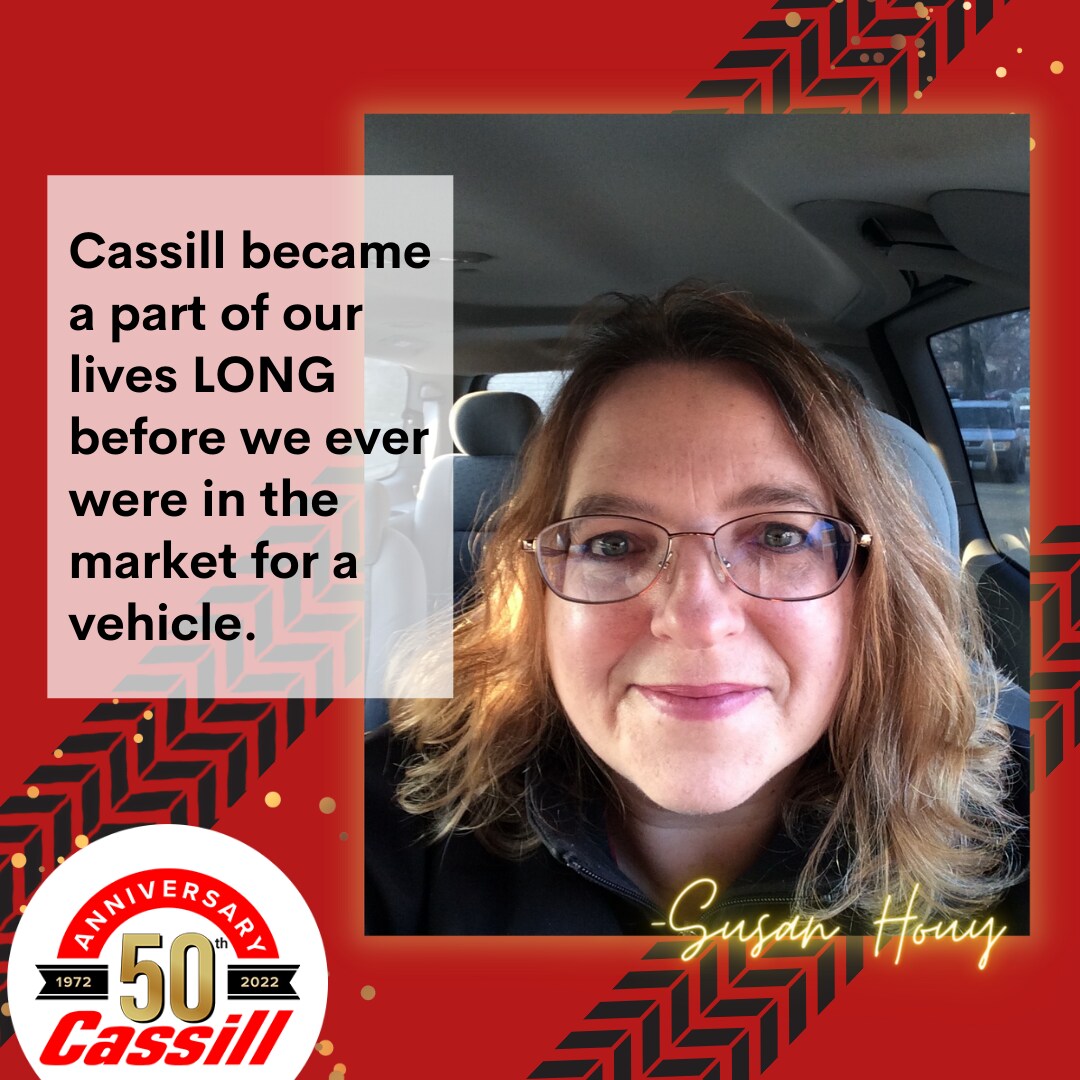 Congratulations Cassill on your 50 years of service.  It's at moments like this when you ask yourself, "So how did our relationship with Cassill begin?".  After a bit of reflection, I realized Cassill became a part of our lives LONG before we ever were in the market for a vehicle. It began in the 1990's when our youth group began to grow and Cassill would graciously rent us vans so we had safe transportation for our events. This was something youth group parents GREATLY appreciated. The blessing of Cassill was also intertwined in our lives because my parents had a respect for Cassill.  This relationship began during the days my dad was a vendor at the Noelridge Farmers Market. Over the years, their love for Chad and Stephanie allowed them a personal insight into the generosity and community support Cassill Motors was involved in. So, when we discovered Cassill had a used Uplander for sale and our need for a new vehicle was becoming very evident, the decision to buy from Cassill  just wasn't difficult since Cassill had invested in our lives over the years in so many ways.  In addition, the Service Department has never been anything but kind and professional.  And I have to be honest, the fact there were soft chairs and complimentary ice cream sandwiches in the waiting area made it much easier for our boys to wait patiently while the oil change was getting done.  Pretty sure the sweet treats, coffee, and conversation were reasons my dad loved stopping by as well. So, THANK YOU CASSILL for doing your best to provide quality vehicles to families, impeccable service and investing in your community.  May God bless your business and your family in the years ahead. 
-Susan Houy
Cassill Friend and Customer
------------
We love being your friends in the car business!
If you have a story to share, contact us! We'd love to hear from you! Submit your story here!